This is kind of a long one, so a summary of what you're going to see:
Death of Hamilton Barhydt, Kate's father
Three weeks at Explo in Yale for Brie
Kate meets Venus Williams (the tennis player)
Visit by Cousin Liz Stuart and children Emmy and Caroline
Will's trip to Finland
Brie's 16th birthday
Model Rocket launches with Will
Seeing Shirley and our two nephews at Bill Dickie's house
A visit by Ben Stern
Death of Robert Willis, a friend from RPI
California vacation, including the Kralls, the Garbers, the Stuarts (the East Coast visit was not enough), Jeff Goldsmith, Jeff Stern, and other gamers, the Getty Villa, the beach and hang gliding
And, as usual, you can see all the photos in the Photo gallery
Unfortunately, this newsletter begins with the sad news that Kate's father passed away August 12th.

Hamilton Barhydt was born in Connecticut where he grew up. He lived in Hartford & Hamden until he left for college at Yale. After getting his BS in Physics in 1950, he went on to graduate school at Cornell. He earned his PhD in Physics in 4 years and left New England to live in California and work for Hughes Aircraft Company. He worked there for 30 years, retired early and traveled all around the United States and other places in the world before settling just outside Yosemite National Park in the Sierras. As he and his wife, Elizabeth, got older and being close to quality health care became an issue, they relocated to Sparks, Nevada which is just outside of Reno. They lived there for quite a few years exploring hiking trails in the Sierras and in the Reno/Sparks area. A couple of years ago they moved to an adult living community in Henderson, Nevada. Hap struggled with health issues for the last couple of years and succumbed to cancer this summer. Kate was able to take Brie and Will to visit him the beginning of the summer and to witness the renewal of his marriage vows with Elizabeth. He passed away peacefully in the presences of Kate's sister, Anne, his wife, Elizabeth, and devoted friends.
Brie on EXPLO:
First off, EXPLO WAS FREAKIN' AMAZING! One of the best times of my life. The people I hung out with most of the time (shown in rainbow below) were like family to me by the time I left. 'Course that's probably happens whenever you spend almost 24 hours with people every day for 3 weeks. I took two classes there, though three if you count my study class (mini course) as a class. But my first class was Exploring Popular Science (EPS) and the second Creative Writing (CW). EPS was fun, but my CW class was composed of some really cool people! We also had a Dora (from Greece) and a Diego (from LA)! I took full advantage of this fact by suggesting we write a story about Dora and Diego exploring together! I would be Boots of course. But Diego, being a party pooper, repeatedly refused, even with my bribes of hugs. And everyone helped me decorate the board on my birthday with lots of "Happy B-day Brie!" chalk drawings. My study class wasn't really "fun" but that's kinda obvious considering the subject. But I did get to meet this really cool girl named Sarah who lives in Tokyo!
Other than classes, there were main events every night. I didn't go to all of them, but I did go to the hypnotist who got this guy Keith to think he was explo's top cheerleader. He went through three mascots, doing the Banana dance, the bunny hop, and (I think?) the cow moo! Another guy became the "friend of all fruit" (which apparently has feelings and doesn't like to be eaten). He protected his friends by putting them down his shirt so no one could get them. That is until he became extremely hungry and began to eat his friends. Then the hypnotist made him "realize" what he'd done and he frantically pulled peices of apple out of his mouth trying to stick them back onto the fruit before slamming himself onto the floor and performing CPR. Good times.
There were annoying things about explo, but the good things outnumbered those by far. Though one good/bad thing was that the food was so bad I barely at any and lost about 5 lbs! Seriously though, Yale cooks need to go to Amherst and learn a thing or two. And also more veggies! I don't like veggies but they only served them 3-5 times while I was there, and they only looked edible once! One funny thing to note, there were about 10 Dans there. (including RA's)! And I was friends with one of those Dans and dating another one, which got to be extremely confusing in conversations at points. We got to the point that we labeled them "our dan" (the dan that we were friends with and "my/your dan" (the one I was dating). Sadly, only the gregory's (Sabrina is 2nd to the left and Kay right in the middle) live near enough for me to continue to see them. And they still live a whole hour away! But Dan lives in Florida, Jen (right of Kay) and friend Dan in Iowa, and Melissa (left of Kay) in New Jersey. :' ( I actually cried when I left!
*NOTE* - I made a slideshow of explo, which you can see here
| | |
| --- | --- |
| My sweetmates and myself! the girl who got kinda cut off is Rachel, the one next to her Ermione (err-my-own-ee), and the one next to her Anna! Anna and Ermione are from Greece! | One of the things from Indiana Jones! They were filming the new movie there. And because of that, I couldn't get to my dorm or back on campus!!! It was beyond annoying, but still cool. |
| Me hangin' with my man Dan and some of his friends. He plays the guitar! In case you couldn't tell from the photo. | Group shot of me and the kids I hung out with most of the time. But I photoshopped it to make it look even more amazing! *Note* - guy to the left of me is Dan my friend, and guy holding me is Dan I was dating. |
| | | |
| --- | --- | --- |
| Venus Williams | Switching to Kate, while Dave, Brie and Will are out of town, Kate sent to see the Boston Lobsters play tennis and see Venus Williams up close and personal playing for the Philadelphia team. Quite a girls' night out! | Kate talking with others in the All Seasons Tennis Club reception tent prior to the match. Venus visited the ASTC member in the tent prior to the match. |
We had a visit from Liz, Caroline, and Emmy Stuart while Will was in Finland (more below). They were out East to spend a week in Maine with Liz's parents, Trina and Jim (Duff). Jim & Trina stopped by as well but I didn't have the camera out while there were at the house. Caroline has shot up like a bean pole and Emmy is not a little girl any more. We saw them a few weeks later in California (also more below) . Comments by Brie:
| | |
| --- | --- |
| Mom and the homemade ice cream cake we worked so hard on! Alright, mostly her, but I did help... Like I chose the flavors. | Mumsy and Aunt Liz! |
| Caroline et moi outside. I made sure to sit on the rock so I looked taller than her. | Emmy with her sweater from Nana! Note that she's actually smiling in a picture! Mostly 'cause she didn't know it was being taken. |
Will on his Finland trip
In July, I went to Finland, along with 20 other people, to play tennis. It was a 9 hour flight, but we basically had the back section of the plane to ourselves so it was a lot of talking and for me watching movies on my PSP.
It was a looooonnnngggg flight. Then we took a 2 hour bus ride, but we had a private bus chartered out with seats that reclined. I finished a movie and then I fell asleep for a good hour or so. We had assigned host families, that we stayed with for 3 nights, then we went on a ferry boat, it was closer to a cruise ship, I mean this thing was huge hotel rooms, slot machines (I'll come back to this later), hot tub, and the most important thing in Finland a Sauna!
As it turns out the legal gambling age there is 15, or if there's someone 15 or older with you, as most of the labels implied. We stayed in a bed and breakfast while we played a tournament on the island. Lots of poker between the older kids every night. One night they even had a poker tournament. I came in 3rd in 14's at the Finland tournament on red clay.
We rode the boat back, and stayed with our host families for another two nights. We had a day of sight seeing in which we went bowling in black lights, a lot of fun (there's a video that you can watch here). We then took the 10 hour flight back home.

Brie had her 16th Birthday party at a indoor water park along with her friends. The whole gang is smiling except for the party pooper named Cody!

VERY VERY BLUE EYES!!!!

River of funness!

Yo, don'tcha know?

We be getto!

WOOSH!!!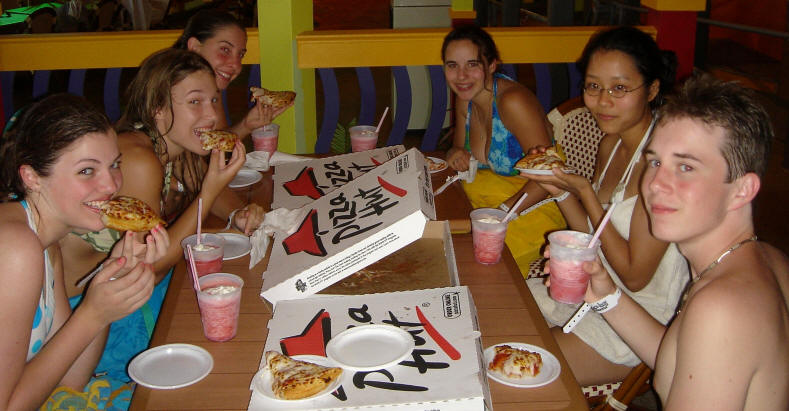 CMASS, a Massachusetts Model Rocket Society, sponsored a second launch for the year in Acton, and this time Will went with Dave. Having lost the Hawk on the prior launch day, they were down to the Intruder and the Phoenix. The wind was unbelievable but, having learned a lesson from the prior launch, they angled the launches into the wind. The end result, both rockets landed near the launch site. Unfortunately, the Intruder broke up on landing into unrecoverable shards, and the Phoenix, on it's second launch, blew the engine compartment and is now awaiting replacement parts.
| | |
| --- | --- |
| The Phoenix | The Intruder |
| | |
| --- | --- |
| Looks great, ends badly | |
Shirley Goss and Nephews Ethan and Dana visit from Montana, staying with Bill and SangOk.
| | |
| --- | --- |
| Shirley and Elaine; Jim and Deb are around as well | Bill and SangOk |
| | |
| --- | --- |
| Ethan | Dana |
We spent August 22nd - 29th in California, visiting with Janet (Kate's Mom) and Bill Garber.
| | | |
| --- | --- | --- |
| Brie: we haven't even picked up our luggage at LAX and she's already the Hollywood Star | Bill Garber: he had his Gall Bladder removed surgically with a straw at 90, and he can still drink me under the table | Anne Krall (Kate's sister) and Janet at the Krall's house in Sylmar. |
| | | |
| --- | --- | --- |
| | Dave and Nick to the left. To the right, Will goes out to help Nick clean up after the horses and water them and looks rather wet himself. So does Nick. Can you say "Uncle," Uncle Nick? | |
We visited the Getty Villa on Malibu Beach. Paul Getty, the oil tycoon, spent a small fortune ... well, a large one, really ... building a replica of a Roman villa in which he housed an impressive art collection of ancient Roman and Greek statues, pottery, mosaics, and other art. The most amazing thing, it was free, and tickets were available a few days in advance.
| | |
| --- | --- |
| Janet, Brie, Will, Kate and Bill. The Architecture of the Villa included the "Strata" look you can see on the walls behind them to give the impression that you were at an archeological site that was being excavated. | The most famous piece of art in the Villa. |
| Pottery from the Romans, and to the right, a mosaic from the floor of a Roman Villa. | |

A panoramic view of the center court, with a pool that had to be three hundred feet long. Kate and Brie to the left.
And then there's the beach, which was also relatively empty for a Saturday. This was Anne Krall's high school reunion; Kate was busy trying to get Bill Garber's new computer working but Brie, Will and Dave went to see them. Nick had his boogie board, he borrowed one from someone else, and Will found out what it's like to have your skin rubbed off with sand paper. Later, Liz, Caroline, and Emmy Stuart came up to visit and we went to the beach with them as well.
| | |
| --- | --- |
| | |
| | |
| Caroline being too cool to go in the water | The Zen of Liz |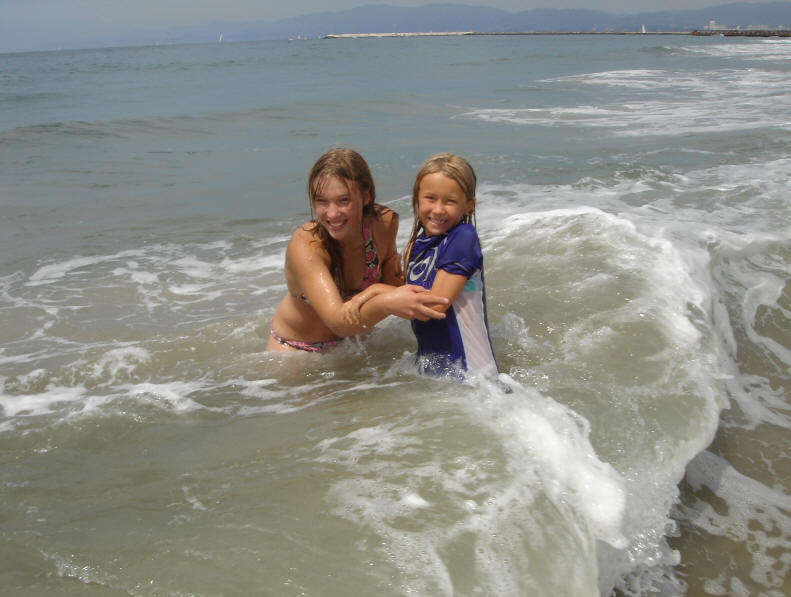 Briezle hangin' in the water with Emmy! Mostly to keep Emmy from getting knocked over by any freak waves.
| | |
| --- | --- |
| And Dave's annual (more or less) game's night at Jeff Goldsmith's. On the right, Jeff is cooking up a storm... roast pork, potato latkas, corn on the cob roasted with butter and seasoning in the husk. Quite the spread. Below Jeff Stern enjoys a Sierra Nevada Pale Ale, which is always on tap. Lower right, Bill, DJ, Richard, Jeff and Jeff Stern (hidden behind DJ) are looking rather pessimistic for the chances in the cooperative board game "Arkam Horror," a mishmash of Lovecraft's Cthulu horror stories turned into a ten-thousand-card game. We were crushed like bugs. | |
And, finally (really... this was literally up until 15 minutes before we had to leave for the airport, Dave was still digging sand out of his shoes when we dropped off the rental car), hang gliding with Nick Krall. Jumping... gliding? ... off an embankment over the beach, you were never more than ten or fifteen feet off the ground, but despite the lack of opportunity to do serious bodily injury, it was a lot of fun.
Ben Stern stops by for a visit and lunch while he's in Boston, funny since Dave just saw his brother a few days earlier in California!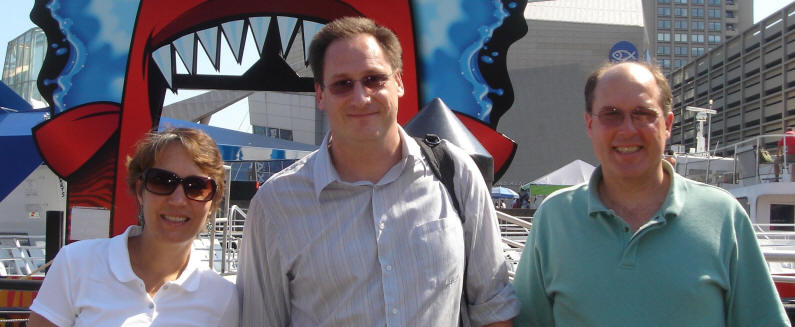 And we have to have the obligatory shots of Tasha and Patric
The final news is very sad. One of David's college roommates, Bob Willis, died of a massive coronary attack at the end of August. Bob, a good friend, avid gamer, funny guy, and the ex-King of the SF&F games club at RPI. Dave will miss him. If you knew Bob you can see more on his memorial page.