Bonaire is one of the most pristine diving spots in the Carribbean thanks to Captain Don, one of the pioneers in preserving underwater reefs. Buddy Dive Resort is the best rated dive resort on the island and a PADI five start training facility. So, having decided to take the kids and two of their friends (Jessica Ziegler, one of Brie's roommates from RPI, and Willing Glatfelder, one of Will's roommates from RPI) down to certify as Open Water Scuba divers, it seemed a good choice for a desintation. It turned out to be a great choice, and I can't recommend them highly enough if you're going to Bonaire to scuba dive (which, unless you really like Gouda Cheese, is probably the only reason you'd go there, given there are a lot of other islands easier to reach)


The view off the Buddy Dive Resort water sports dock
We flew out of a cold, damp, grey Boston almost-day on January 12th (around 6 in the morning). We flew through Atlanta... only two airlines fly to Bonaire and the flight options are kind of limited... and, with about an hour between arrival and departure, prayed our luggage would make it to the international terminal in time to be loaded on the aircraft. Flight time to Bonaire was about four hours, but you cross into a different timezone so you lose an hour. We arrived around two, getting to the resort around 3:30. By 4, Brie and her friend Jess were in bikinis sunning and playing with the rather tame iquanas while Will and his friend Willing took advantage of Bonaire's 16 year old drinking age and visited the Pool Bar. I found that sort of funny because you had to be 23 to drive in Bonaire. Go figure.
We found out that the kids were supposed to have studied the written materials for their certification ahead of time, so they spent most of the night cramming. I, Will and Willing did decide to take a swim off the Buddy Dive dock about 8, which was fun, particularly when I could say "I'm going to take a picture, jump on three... one... two... THREE... SHARRKKKKK!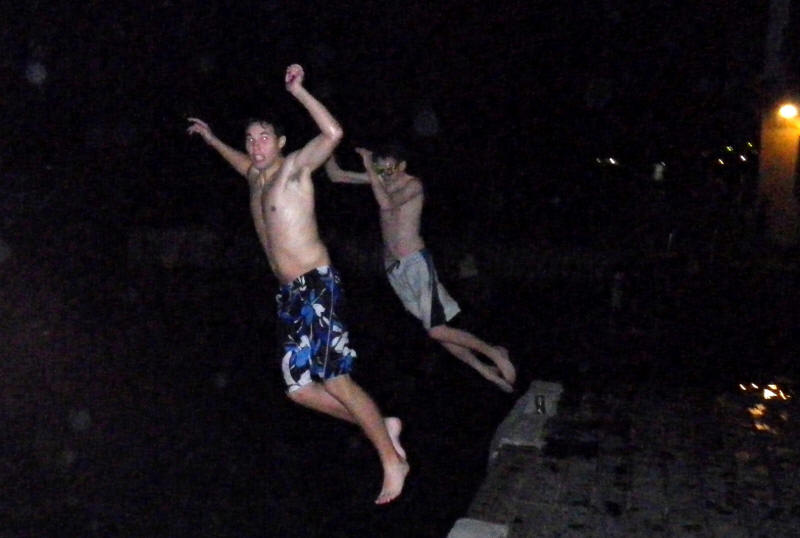 Buddy dive included a free breakfast each morning, with a variety of fruit, eggs, omelettes cooked to order, bread, sausage, bacon... etc etc served in on a patio with open views of the surrounding ocean. The first couple of mornings we all went together, but by Wendensday the rapidly diverging boys and girl's schedules made it more catch as catch can. In addition to eating, there was also feeding the fish off the pier from the breakfast area (marginally discouraged by the staff but they were too nice to really enforce it). There was also a Manta ray that visited the waters around the resort to watch for.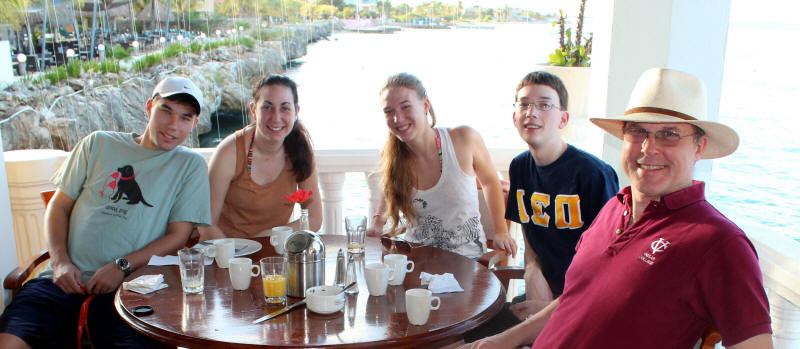 | | |
| --- | --- |
| Feeding Frenzy for Croissants tossed from the patio | The ultra-cool Manta ray |
Sunday, the kids started lessons in earnest but I wasn't feeling 100% so, rather than do anything serious, I did my equipment checkout dive on the reef in front of the resort (which is pretty much as nice as any reef I visited the entire week), then used the afternoon to check out Seru Largu, a high point that looks over the west side of the island that Buddy Dive and the main town, Kralendijk (prounounced "Krackerjack"), is located on. Below, Seru Largu (you can see the cross at the high point), the actual stucture (I'm not sure what the significance is), and the view of the west part of the island from Seru Largu.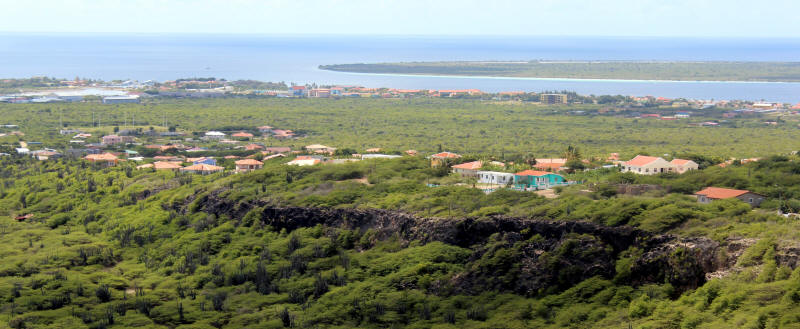 Tuesday started the real diving, and I generally did two boat dives a day until Friday, which was a no-dive day (you aren't supposed to dive within 24 hours of flying to avoid getting the bends). Brie, Willing, Jess and I did an additional shore dive on Thursday at a working Salt Pier on the south end of the island. But before we get to that, let me say that the kids suprised me for my birthday, not only setting up a little birthday party at the Pool Bar, but getting me a present... a SeaLife DC1400 underwater camera (unlike the Pentax W90, which is a snorkling camera good down to 20 or so feet, this is a full-blown dive camera good to 200 feet down).
The kid's certification process was pretty much what I remembered from 30 years ago on an accelerated schedule (just because they did it from 8 to 5, not that there was any less material or fewer excercises that what I had to do). Still, studying under a thatch roof in front of a turquoise sea isn't so bad, the pool work was short, and the certification dives (four of them) were on the Buddy Dive Reef, which is a pretty nice place to be practicing.

I got to tag along on the final certification dive and take pictures with the new camera; I'd decided to rent a external flash as well, because while I got some pretty great shots from the basic camera you had to be pretty close to get good color. Later, I just decided to buy it.
| | |
| --- | --- |
| Brie and Jess ready to jump off the dock... | Brie hitting the water after the jump |
| Four divers (Brie is behind Willing, Jess to the right, Will back and up) head for skills testing | Checking for proper neutral bouyancy |
| V for Victory from Brie | Done with skill testing... off to adventure! |
| | |
| --- | --- |
| | And on the reef, with another V for victory sign from Brie. But the astute observer might notice something different from the prior V for Victory... Brie's not wearing the day-glow yellow mask any more, the instructor is. It was leaking water so badly for her that he switched masks with her, keeping his eyes open in the salt water while doing it. That's a dedicated scuba instructor! |
My dives were cool (some of which Will and Willing were on as well; the Girls decided to take up an offer from Pascal, one of the dive instructors, to join him on some of his dives where he was taking out some of the employees that were working on advanced training), but they weren't that different from dive to dive, so I'll mix them up a bit here and more focus on what I saw (although this is just a subset since I don't want to bore you with hundreds of photos). These are all shots I took with the underwater camera, some before and some after I added the external flash.
| | |
| --- | --- |
| Squirrel Fish | Coral |
| Cleaner Shrimp | Flamingo Tounge |
| Spiny Lobster | Crinoid |
| Blunt Slipper Lobster (the bug like looking thing) | Mr. Cuddly (Squid) |
| Cow Fish | Blow (Porcipine) Fish |
| Barracuda (there were silver and brown mottled ones) | Morey eels (and several other kinds) |
| Coral | Trumpetfish ... this one was about three feet long! |
| The hated Lionfish (invasive species) | French Angelfish |
One dive (with Will and Willing) was kind of funny... not the dive, but after we got back up to the boat, they couldn't get the engine started. So one of the two dive masters went to fix it by openning the engine compartment and hitting the engine with a lead weight. That went on for about thirty minutes, and then he said to the other dive master, "well, this isn't working, and it's 3:59 and the engineer goes home at 4. It should really upset him if we call him out here now." Second Dive Master: "I'll get on the radio."
| | |
| --- | --- |
| | Right, dive master one hits the engine with his lead weight (in his hand) while the second dive master (the woman in the bikini) looks on. Above, the Engineer using what amounts to a big-ass car battery starter gets the engine going. |
We did one shore dive (the dock dive at Buddy dive did not really count as a shore dive) at the Salt Pier, a working pier where they load... can you guess? Salt. There were mountains of pure-as-the-driven-snow white salt waiting for a frieghter to pull in. It looked like we could have gone skiing on them. The pier stretches out quite a way, ending in about 50 feet of water, and the massive pillars are not only interesting looking in and of themselves, they provide hiding places for large schools of fish.
Our final day on Bonaire was, marginally, a no-dive day (theoretically, you're supposed to stop diving 18 to 24 hours prior to flying... which meant we could have gone until 10 PM Friday, but seemed better not to push it). So we did shopping in the morning and visited Washington-Slagbaai National Park (pronounced "National Park") in the afternoon. It was supposed to be a 2 hour hike (although we finished it in about an hour and a half).
| | |
| --- | --- |
| | Giant cactus tower over everyone, opening to scrub brush and barren patches that alternated between lava and dead coral. Top, some colorful Caribbean Parakets yell raucously from the tops of the cactus |
| Wild goats and donkeys roam inside and outside the park, seemingly immune to the sharp brambles and cactus spines | |
| The rugged north shore provides a stunning backdrop | While the natural blowhole is equally interesting to watch |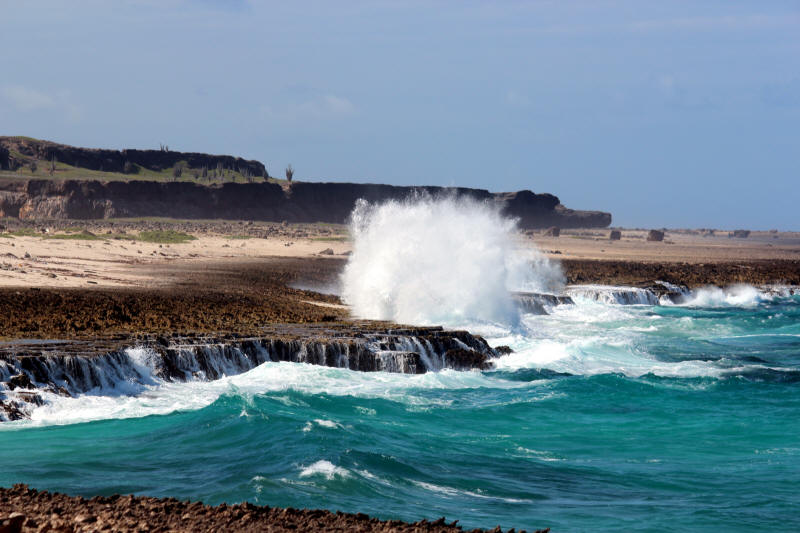 Then there were the evenings. We did nice dinners twice, one at "It Rains Fishes," which was fantastic, and one at "At Sea" where the food was fantastic and we were almost eaten alive by biting flies. The rest of the time, we ate at the resort, particularly since the kids bonded with a couple of the people they had worked with (and literally every dive master seemed to know who they were... admittedly, I don't think there was anyone else under 50 at the resort, and Brie, Will, Jess and Willing were the only ones that had done a certification during the week)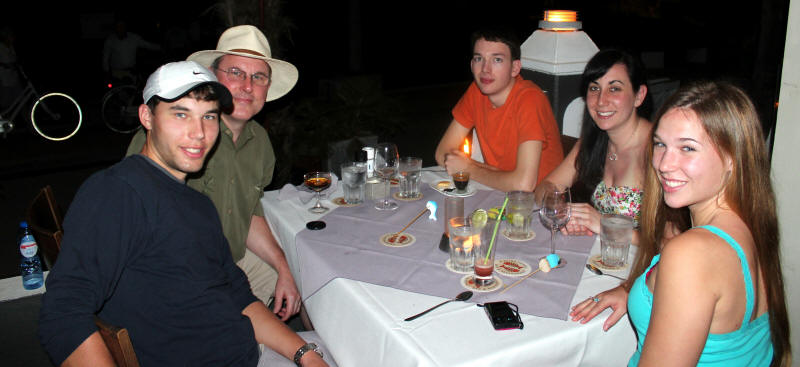 Dinner at "It Rains Fishes." Will had the T-Bone steak.
| | |
| --- | --- |
| All of us with Pascal van Empelen, one of the dive instructors that spent a lot of time with the kids on and off dive trips | Scott, the Canadian, and the lead instructor. A funny guy who's been temporarilly working at Buddy Dive for 10 years. |
| | |
| --- | --- |
| Jimmy, another of the dive instructors. To the right, sunset over Klien Bonaire, the small, uninhabited island west of Bonaire. | |
And, of course, post Playa Del Carmen, we had to do the hat. My votes: Jess for cutest, Brie for sultriest, Will for coolest, and Willing for most likely to sell you a used car (that innocent, open look is just a ploy)