The trip started off with the Thursday early evening flight to LA, a trip like old shoes you haven't worn in a while; broken in but not completely comfortable. Alison picked me up at the airport and we drove to Pasadena with surprisingly light traffic and had dinner at Mike and Anne's, a restaurant near the Pasadena house that we both like. We did small things on Friday; a visit to the Huntington Library, dinner at Seco with Noah and Alicia.



Saturday we spent the morning and afternoon at the LA Anime Expo. At 100,000 plus attendees, even the LA convention center was bursting at the seams. We arrived about the time it opened… which meant it took about an hour to get in. The convention was the same chaotic, energetic, mainstream-counterculture overload of cosplayers that it was in 2014; we did check out the vendor space (huge but the booths were very repetitive, without the diversity of Gencon or the higher end stuff that was on display in Boston), but most of the four or five hours was spent just wandering the hallways, admiring the variety and ingenuity of the outfits on display. The "look at me" crowd was just as prevalent as last time, individuals finding their spot and making it obvious they wanted you to take their picture. The less frequent large groups that had some kind of theme going on grabbed larger swaths and did more elaborate photo shoots (although neither Alison or I were enough of an Anime expert to be able to tell what the theme was). And when we were leaving we found some kind of staging area near the garage for semi-pros with real cameramen running them through poses. Below are a few of the outfits that stood out (you can see all the shots here); the "dark knight" was particularly funny because his little fire pit had a blower that made the LED lit crepe paper flames dance around and he sat there turning the "meat" on a spit; he'd relocate every once in a while, because we saw him in different locations.



One thing that I noticed at Gencon a few years ago was that most of the "serious" cosplayers (I know, oxy-moron) have "the look," an expression they clearly practice for hours… or days… in front of a mirror. I don't remember it being so prevalent at the LA Anime Expo when we went in 2014, but it was on full display this time around. Although I think I remember "Suicide Guy" (lower right below) from 2014 (the photo isn't great; he has a bloody hole at his temple making it appear that he shot himself in the head). I have to give him points for dedication. We walked by the same spot two hours later and he was still there, same pose, same cigarette hanging out of his mouth. You do have to wonder what motivates him; it doesn't' seem like a cost effective way to enjoy the convention.


Alison and "No Face" from Spirited Away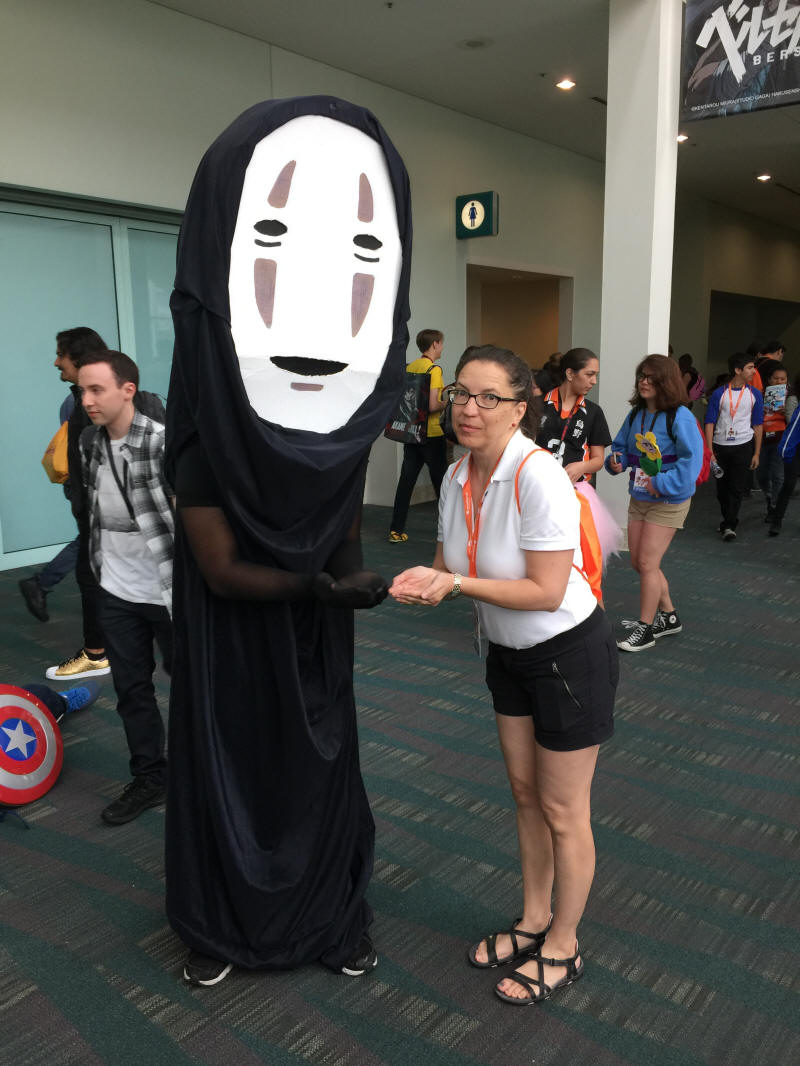 Afterwards, we headed to Bill and Janet's, having dinner with the extended family. Will and Janu were there, having flown in from a weeklong vacation in Cancun to visit on the same weekend, and we did the inevitable take out from Paco's Tacos and admired Will and Janu's tans.




We drove down that evening to Alison's folk's house and stayed there Saturday and Sunday evening. Sunday, we went to the Wild Animal Park (having memberships); it's a wonderful venue for walking and even when it's at or near capacity (the parking lots were full at least), it doesn't feel too crowded. We wandered through the main village (aka "Safari Base Camp") with shops and a show that was billed as the "Summer Safari Asian Celebration" but looked more like pop dancing. The original plan was to visit the California Nativescapes Garden, because of Paul and Carol's interest in succulents and cactus, which took us in the same general direction we'd been before when we visited the Tiger habitat. The farther we went, the thinner the crowd became. We never made it; ended up getting sidetracked by the Bonsai garden, which was spectacular, and we were the only ones there. I think at this point we've only visited about a quarter of the park during our two visits there.




Monday was the fourth of July, and we'd been invited to Alison's friend Judy's house for a combination party and celebration of her recent marriage. Alison told me it was an EVENT (when she said it you could hear the capital letters). But I didn't take it too seriously until Alison mentioned that our assigned arrival time was 6:15 and we needed to meet that plus or minus a few minutes. It was unclear to me why our arrival at the party needed to be planned to the minute until Alison explained that Judy was spreading things out so the two big black Cadillac Escalades ferrying people from the parking area to the house didn't get overcrowded.

Huh.

It turns out that Judy's house is in the hills overlooking Arroyo Seco Park and the Rose bowl. Way up in the hills. Like, "any higher you would need oxygen tanks to survive" up in the hills. Parking is limited (hence the black SUV caravan). The view was fabulous during the day (and you couldn't have a more unobstructed view of the fireworks display at the Rose Bowl if you tried), but it paled next to the house. There are miracles of architecture everywhere, some old, some new. This should be one of them, not because it was particularly grandiose, but because it was a perfect combination of esthetics and function. It's essentially a house built around two sliding glass walls that opens one entire side of the house to the view of the valley. When you open them, air flows naturally through the house, a refreshing breeze that keeps things cool and … well, the only word that comes to mind is "delightful." There was art, and it was real art, a zen, far east sort of vibe with a few more esoteric pieces mixed in, holistic chaos. It was elegant and fun at the same time, a hard combination to pull off.

It was pretty amazing.

We went with Alison's friend Elizabeth; Rick Morris was supposed to be there as well, but he had to fly back to the East Coast when his father passed away a bit faster than expected from cancer.




July 5th is our Anniversary, and it was perhaps fitting given the year and a half of flying to California every other weekend when I was courting Alison that we spent most of it travelling. Our destination was Beaver Creek, Colorado, which is close to two hours outside of Denver. Noah dropped us at the airport well in advance of the flight and we relaxed in the Alaska Boardroom (which honors American Admiral's club membership) until we took a bus to a stand-alone terminal in the middle of the LAX airstrips … something we didn't know existed. We had upgrades to first class, which was nice, but it was only an hour and half long flight. The Denver Airport is odd; it's not laid out in the efficient but routine configuration of most airport terminals, with the ring of concrete boxes of the 1960s and 1970s in the older airports and the glass boxes in the newer ones. But it was easy enough to grab our luggage and take a bus to the National Car Rental site, where we picked up a comfortable but forgettable sedan. Two hours later, we reached our destination, the Beaver Creek Lodge, part of the Kessler collection hotels and the main reason we were there. Which requires a little explanation.





Alison and I stayed at another Kessler Collection Hotel, the Grad Bohemian, in early 2015 when we were visiting Orlando. It was different in a charming, quirky way, with its red and black velvet themed restaurant and extensive art on display. And Alison noted another Kessler Collection hotel in Taos, the El Monte Segrado, which is how we ultimately ended up there for our honeymoon. When we were driving Bear, Oreo, Dobie, and what of Alison's possessions could fit in the van cross country, we drove through Colorado on Route 70, and it was spectacular. We were talking about going back in the winter to ski, and looking at "ski on / off" lodging, found the Beaver Creek Lodge. When I was trying to plan our anniversary trip, we were originally talking about Banff in Canada, intending to do some hiking in the mountains, but it's very hard to get there and I didn't want to spend that much time travelling; we only had five days after spending four days in LA. Denver was half way from LA to Boston and had the same spectacular scenery. And the Kessler Collection Hotel seemed like it had a certain synchronicity with the honeymoon. So Beaver Creek ended up the destination for three days, with a two day stay in Denver before heading back to Boston.

With that kind of lead in, you know I'm going to say how spectacular the hotel was. Except it wasn't. It was nice, certainly a high end ski lodge, but there really wasn't anything that made it stand out. And there were a few things that were downright odd; I had selected a "village view" room, but it turned out that meant there was a platform at the end of the room you could climb up to in order to look out the window at a view of the street. The restaurant had a grand total of ten wines to choose from; the signature drink was some kind of dill pickle juice concoction that wasn't particularly good. The woman at the desk was an young blond who didn't know anything about the hotel or area, and was doubling as the parking valet because he left at three. Again, it wasn't terrible and the room (rooms, actually, it had a small sitting room, a bathroom and the bedroom) where comfortable enough… but it wasn't interesting enough to take a picture of and I take pictures of everything.





Beaver Creek itself is a quaint little mock alpine village that positively oozes the scent of white gentile money out of its sugar-scrubbed-at-a-spa pores. It's in the Vail area (and actually run by Vail Resorts), framed by Grouse mountain on one side and Vail valley on the other. We were in the upper village, where the massive Bavarian-esque hotels overshadow the individually owned Bavarian-esque houses, until you realized that the houses, which are mostly vacation homes, have as much square footage as some of the smaller islands in Hawaii. The help at most places are white, preppy college graduates from good universities who are polite and perky, with dazzling white smiles, impeccable manners, and sophisticated vocabularies. All of which makes it a pretty nice place.

So after a night of not much sleep for reasons I won't go into (but it was our anniversary) we woke up bright and early the next day in time for lunch, barely. After a leisurely meal and a lot of coffee at Starbucks, we decided to hike up the mountain because taking the chair lift seemed too much like cheating. There was a certain amount of confusion about the distance, which the map, if you combined the "Five Senses" trail and the "Beaver Lake" trail (which we had to assume would lead to Beaver Lake, which we also had to assume was the source of Beaver Creek, and which lead naturally to a long conversation about what order in size a stream, a creek, a brook, and a river were) was three miles. But hiking maps sometimes quote things in round trip terms, and sometimes in one way terms. Three hours and 2000 feet in elevation later we agreed it was three miles one way. Beaver Lake is at an altitude of a little over 8000 feet. Which puts it at "high" according to this chart I found randomly searching the internet (and, entertainingly enough, which uses Aspen, in the same mountain range as Vail, as an example).


| | | | | |
| --- | --- | --- | --- | --- |
| Altitude (feet) | Altitude (meters) | Effective Oxygen % | Altitude Category | Example |
| 0 | 0 | 20.9 | Low | Boston, MA |
| 1000 | 305 | 20.1 | Low | |
| 2000 | 610 | 19.4 | Low | |
| 3000 | 914 | 18.6 | Medium | |
| 4000 | 1219 | 17.9 | Medium | |
| 5000 | 1524 | 17.3 | Medium | Boulder, CO |
| 6000 | 1829 | 16.6 | Medium | Mt. Washington, NH |
| 7000 | 2134 | 16.0 | Medium | |
| 8000 | 2438 | 15.4 | High | Aspen, CO |

The official definition of "high" in Colorado, given Marijuana is legal in the state, has little relevance, but losing a quarter of your breathing capacity due to lack of oxygen more than made up for it. But Alison comes from sturdy stock and I was enough of a guy that I had to constantly ask if she wanted to take a break, not that I needed one or anything.

So after making it to and then scrambling around the lake (which was beautiful) we decided to take the four mile cross mountain trail (Royal Elk trail) which, as it turned out, went up another 1000 or so feet. Along the way we met a few hikers that were all outfitted with telescoping walking sticks, which seemed unnecessary until we were climbing down slopes that were kind of like cliffs, only steeper. But I found a solid stick for Alison which she named, rather whimsically, "Sticky." After which we had to look at the other hikers with a raised eyebrow, saying, in effect, "really? You paid for that?"


At the end of Royal Elk trail (totally misnamed, there were no royal elk, although we did pass a hiker with purple socks) was Overlook trail, which went up to the chair lift we had so dismissingly passed up on, or alternately down four miles of steeper-than-cliff slopes to the village below. With "sticky," cliffs were no obstacle, and we chose to hike down the mountain, bringing the grand total of the hike to about twelve miles at altitude.

It was a pretty awesome hike.





The down-slope hiking was actually a little harder on the knees that the upward hiking and I was limping by the end, but it really was wonderful. Aspen groves, bubbling brooks, the view of the Alpine village (hence the name "overlook'), and the young hiker that passed us going down and then going up because he said there was a large animal he thought was a bear on the trail below us and it wanted to kill him all made it a real adventure.


The there was mountain biking, which Alison did not take too, which almost killed me. Twice. This time we let the chair lift do the heavy lifting (that is, us), hauling our still-achy-from-climbing joints to the top of the mountain with two state of the art mountain bikes (Chris, the bike guy, with his slicked back blond hair and blinding white teeth asked "have you ever ridden a bike with carbon fiber air cooled hydraulic disk brakes on the front and back before?"). First run was down a dirt road, with scenic views you would appreciate if it didn't seem like the brakes on the bike weren't trying to send you flying over the handlebars and down a conveniently located 100 foot drop. We went back up and the second run was going to be a "single track" blue square (playing to the skiing crowd) trail. Single track means "a narrow strip of dirt, banked on curves so you could skid your way around at high speed, and full of rocks, roots, logs, and the skeletal remains of those who didn't make it last time." Alison declined the opportunity. But the trail... named something like "you are an idiot" ... joined up with the dirt road farther down the mountain. So I told Alison I'd meet her at the junction, and took the road less travelled. Which was a little harrowing, but fun, and then I almost hit a deer who ran across the trail a few feet in front of me.

So that was "I almost died" one.

When I reached the junction, I parked the bike and switched from the bike helmet to my hat, looking for more protection from the high mountain sun. And after a while, having climbing up half the mountain with my bike and asking someone that said "no, there's no other biker on the road" I realized that Alison had passed ahead of me and was way down hill. I hopped on the bike and booked for the bottom. When I started hitting thirty or fourty miles an hour, my hat started jiggling from the air rushing past it, and I realized I hadn't swapped back to the bike helmet. And then, with a sudden jerk, the hat came off, but rather than fly backwards as I expected, slipped directly onto my face, leaving me completely blind to the road.

Yes, that was "I almost died" two.

Fortunately, I kept my wits about me, and with the carbon fiber air cooled hydraulic brakes stopped in thirty or forty feet.

It was an adventure.

And the Beaver creek section of this note is getting rather long, so I will keep this short; the other picture is at the Grouse Mountain Grill, which is a fabulous restaurant that has something unique; the best bartender in the universe. Carlos. After a couple of truly amazing cocktails, he came out to ask if we enjoyed them, and passed on some of his secrets, like soaking strawberries in vinegar overnight so his strawberry gin fizz isn't overly sweet. He made an Aviation (one of our favorite cocktails) ... and it was perfect. He introduced us to the Ramos Fizz. Alison told him... and this is a quote... "I want you to follow me around and make me cocktails for the rest of my life.


Friday we headed for Denver, with what was intended to be a short stop at Leadenville, home of the world famous National Mining Hall of Fame and Museum that we knew about because there was a sign on the I-70 that said it was "this way." An hour later, after a very picturesque drive through mountain valleys and cattle farms, we hit Leadenville. After half an hour of driving around in circles in a town that looked like it's hey day was back around the time of the Roman Empire (safety tip: Google maps does

a poor job

in Colorado) we found the museum.

And it was pretty cool, actually, larger than you would think, educational about mining in the engineering sense, the historical sense (it went through two hundred years of constantly improving mining techniques), and the economic sense (really going into gory detail about what a boom-bust-boom-bust the entire area suffered through due to price movements on various minerals. Plus it had a picture of the Ice Castle that Leadenville built to re-invigorate the local economy during the silver crash we'd never heard of before (which didn't work out because the idea was that people would eat out, but they brought picnic lunches instead) and the castle build by a local from mining leftovers collected over his twenty years in the mines (which was vaguely reminiscent of the church altar build in a garage over a fourteen year period by James Hampton with tin foil and light bulbs, except they didn't bill themselves as "Director, Special Projects for the state of eternity"). Plus the hall of fame list some two hundred or so people, which is more than the number honored in the Baseball Hall of Fame and was a bit of a surprise.




So we mosseid (I'm not really sure how you spell that but we were definitely mosey-ing) on to Denver. We did two days at the ART, a new hotel, which looked pretty awesome from the web site and turned out to be… well, better than pretty awesome in reality.

It's a funky, modern hotel in the "golden triangle" of Denver, which meant there were somewhere around sixty things in walking distance we wanted to see. I opted for one of the "view" rooms, which cost a bit more but looked like it had a nicer bathroom. But the experience started before we even arrived.
There was an email reminding us of the reservation… pretty standard… and a little questionnaire that wasn't so standard. Part of it was whether the stay was because of anything special. I didn't think it would amount to anything, but I jotted down that it was an anniversary trip for Alison and I. Half an hour later, I get another email asking if there's anything special they could do to make it more memorable; I sent a response that a dozen roses in the room when we arrived would be wonderful. And when we did arrive, they were there, no muss, no fuss, no bill... they did it just because.

The room was spectacular; the "view" rooms are at the ends of the hotel and wrap around the building, giving you 180 degree views of the area.

Everything was chic modern, tastefully put together. Elegant and functional. The bathroom was indeed to die for, including the large marble tub and huge walk in shower with a shower head that was definitely not "high efficiency"; it was like standing under a small waterfall.

The staff was friendly, eloquent, and helpful. The restaurant and outdoor patio where they served drinks was open and airy and fit the modern vibe of the rest of the building.

This time, I did take pictures of the hotel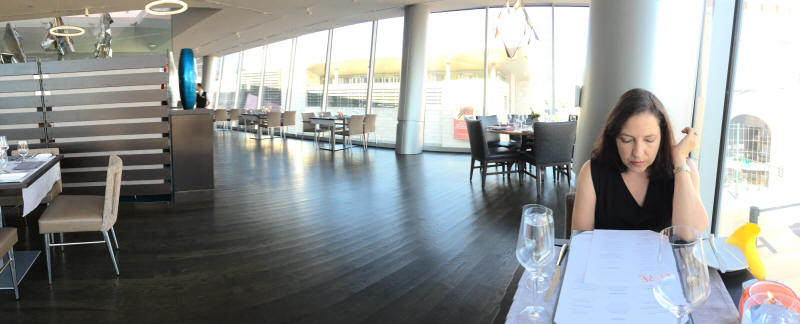 The next day, we walked over to the ART's next door neighbor, the Denver Art Museum. Which was pretty awesome itself because (1) they clearly spent an incredible amount of money to make sure you understood you were not intended to take the art too seriously and (2) there was almost no one there; I think the general idea is that Denver thinks they should have an art museum but most people just want to see the Broncos.

The "don't take the art too seriously" was because the building itself was like a cubist's rendition of an abstract still life, all strange angular shapes juttying out every which way with no rhyme or reason to it. Which meant when you are inside, the entire building was a bunch of crazy angles, a very non Euclidian geometry. Which was bizarre and fun and it was clearly a message that, hey, this is just all sorts of weird because we thought it might entertain you. Then there was the bright red t-rex with "made in China" stamped on his belly. That was a hint too.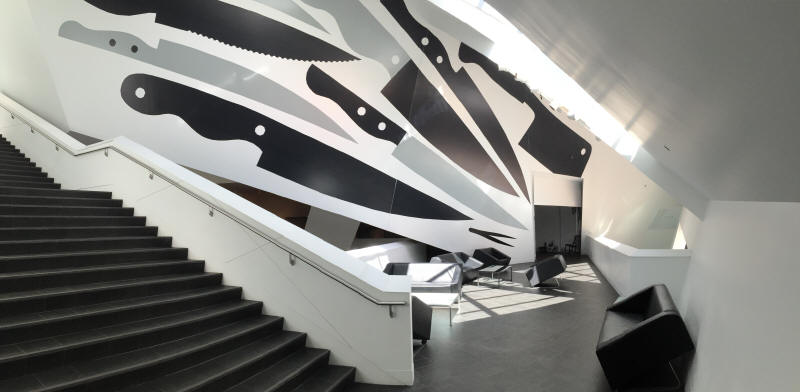 We were fascinated by another neighbor of the ART, the CELL, which originally looked like some kind of "escape the room" kind of live action game, but which turned out to be serious; from the web site:


COUNTERTERRORISM EDUCATION LEARNING LAB

The Counterterrorism Education Learning Lab (CELL) is dedicated to the prevention of terrorism through education, empowerment and engagement. As a nonprofit, nonpartisan institution, its one-of-a-kind exhibit, renowned speaker series and training initiatives provide a comprehensive look at the threat of terrorism and how individuals can play a role in the prevention of terrorism, ultimately enhancing public safety.

Just when you thought things couldn't get any crazier. We opted instead for the Byers-Evans House. The Byers-Evans house was built in 1883 by William Byers, the founder of the Rocky Mountain News and was sold to William Gray Evans, the son of the second territorial Governor of Colorado, in 1889. Members of the Evans family continued to live in the home until 1981, when it was donated, along with most of the contents, and is a well preserved look at what life for the "1%" was like back in the day.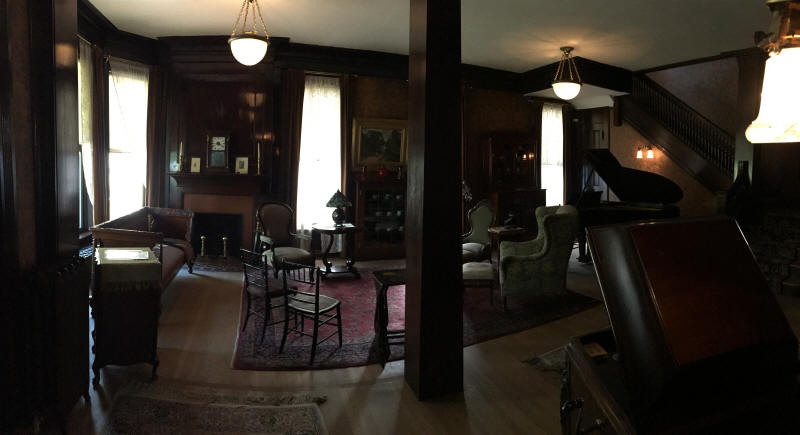 And that was a wrap on Denver; we flew out Sunday after getting alerts all night long about our flights getting delayed, cancelled, or rerouted (requiring us to call the Platinum desk every couple of hours until the next morning to reroute us so we didn't end up in Sierra Leone or something).

But it was nice to be home.