At the beginning of June, Alison walked 60 miles as part of Just Cause, a yearly event that raises money for breast cancer research and support. The group as a whole raised just short of $100,000 and has contributed well in excess of a million dollars since it started in 2002. But of course, the main story here is not about Alison, but my pants. And my butt.

These shots are at the end of walk, where the walkers are cheered on by friends and family as they finish at a home in Bolton that hosts a barbeque for everyone. I was standing on a rock wall taking pictures, noticing that the group behind me wasn't clapping and cheering like everyone else but not thinking much about it. That was, not thinking about it until one of the people came up and very politely asked me if I knew that my pants were ripped in the back. Which I didn't, and reaching back to check discovered it wasn't a hole; there was a giant rip that went down half the length of the pants.

Good thing I had on underwear. Yes, it was clean.



Alison spent much of the summer in LA with Maddy and Noah; I did things to entertain myself like taking Brie, Will, and Janu out to dinner, doing some Puzzled Pints with Eric and Evan Haines, and going to a party for the Morris kids (where I ran into Rick and Elizabeth, who was on the east coast at the time).



And here's an adorable picture of a Dobie "hiding fail" that I had to throw in because, well, he's just so adorable:




Maddy came for a visit in mid-July, which coincidentally was when Bill and Sang Ok were back from Abu Dhabi. Below, visiting Will at his apartment complex and taking in the Boston skyline from the top of the building; Bill, Andy and Sang Ok come by for a visit at our house.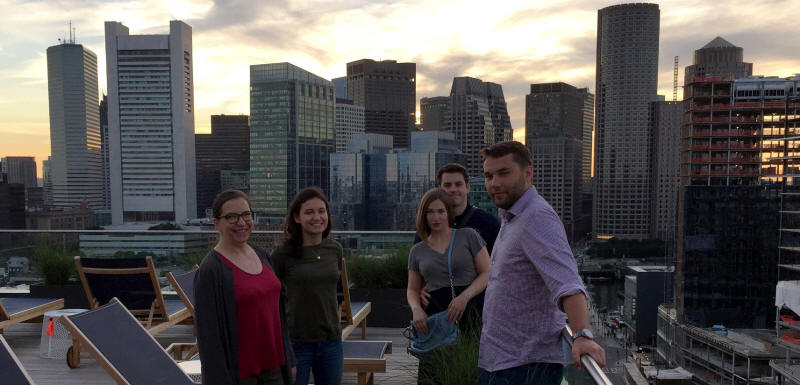 Maddy and Alison were in Massachusetts over Alison's 52nd birthday, and we went to Six Flags along with Brie to celebrate (Alison's choice!). Alison has a thing for theme parks, particularly Disneyland. But we're also both getting old and after a day of looping, whirling, upside-downing, speeding rollercoasters we were ready to head home!


Below, two dinners for Brie, one for her birthday in July, one for her and Aidan to celebrate the completion of their respective Computer Science Master's degrees in October. Brie and Aidan both had finished up their theses in September and flew over to Ireland to (successfully) defend them. Brie's thesis was a timely study of email encryption techniques that would have been a good thing for the DNC and Hillary Clinton to use!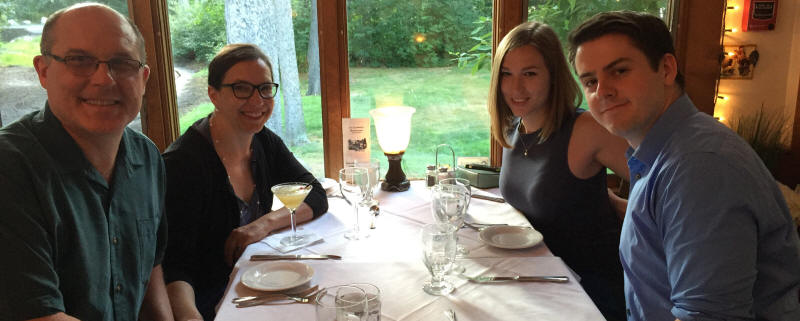 In early September, we did a day of canoeing on the Concord River (well, technically it's the Sudbury River where we start from but it joins into the Concord River fairly quickly). It was warm, water levels were low, and there was no wind, making the river seem like a giant mirror. We managed to get within a few feet of a blue heron and countless numbers of turtles sunning themselves on logs. We went much farther north then I've ever been before, to the far side of the Little Meadow Conservation Area and beyond.




The first week in August included the annual Bob Willis Memorial gathering at RPI in Troy, New York, that we've been doing since 2007 after the untimely death of our friend many years ago now. It's a day of doing what Bob liked best, playing board games in the RPI Student Union after raising a pint to the King (of the Science Fiction and Fantasy Games Club). It seems fitting that every year we've been there, despite school being out of session, the current Games Club has people in the Student Union every weekend for the entire summer. It's not a hobby, it's an obsession!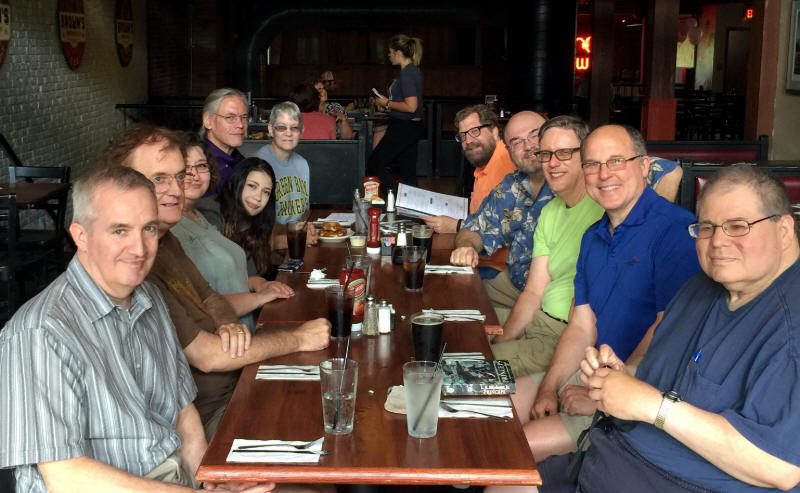 August also marked Noah's initiation to Law School at NYU... you can see details from our visit in the NYC visit newsletter.

We've also taken the dogs on a few hikes around Tophet Chasm Conservation area (home of Oak Hill, which is high enough to see the Prudential building from Littleton when the air is clear). The last one included some pretty spectacular foliage, as good as anything we saw on our foliage trip to Vermont.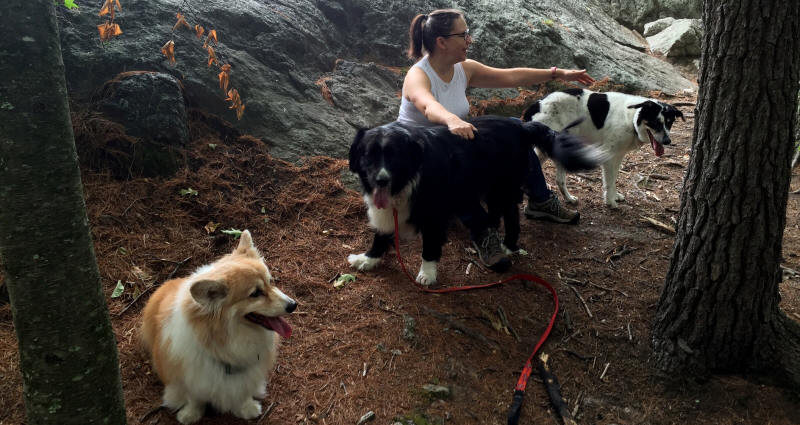 We took Brie, Aidan and Will to one of the Aquarium events in August, and we continue to take them out en masse or individually to dinner every week.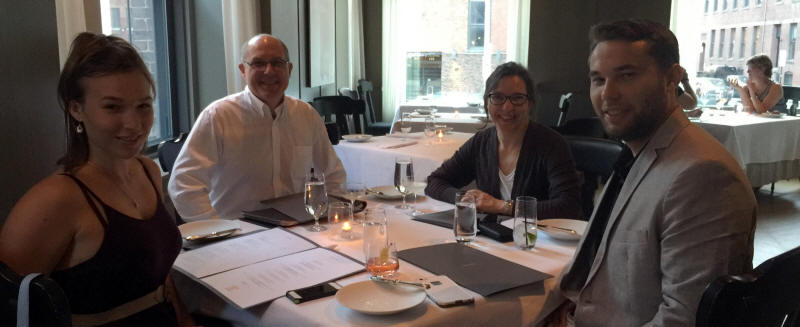 One of the dinners was at Will's apartment in Seaport, where I had a chance to meet the "Dog Crew," a bunch of friends he made by virtue of a common connection... they are all dog owners. The apartment building is very pet friendly, featuring events like "yappy hour." Patric made the pet of the month in September!



While Elizabeth was out visiting Rick Morris, we went out with them, Rick's friend Travis, and Travis's coworker Joe to see a comedy show in Boston featuring Kathleen Madigan. If you get a chance to see a show of hers, you should, because it was hysterical.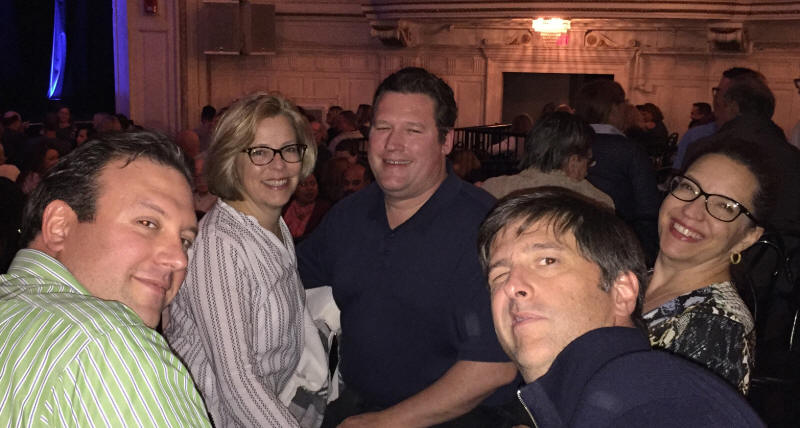 And some random shots, just because. One shot from downtown, where a strange fog rolled in and made it look like the apocalypse had arrived. One shot of Dobie, who has gotten in the creepy yet oddly endearing habit of peering in the shower at me every morning while I shower and who will jump into the bathtub after I get out to do whatever cats do in bathtubs (I am sure he is sticking his tongue out at someone else). Dobie has been feeling his oats recently, having caught a number of mice in the house, and then going after bigger game.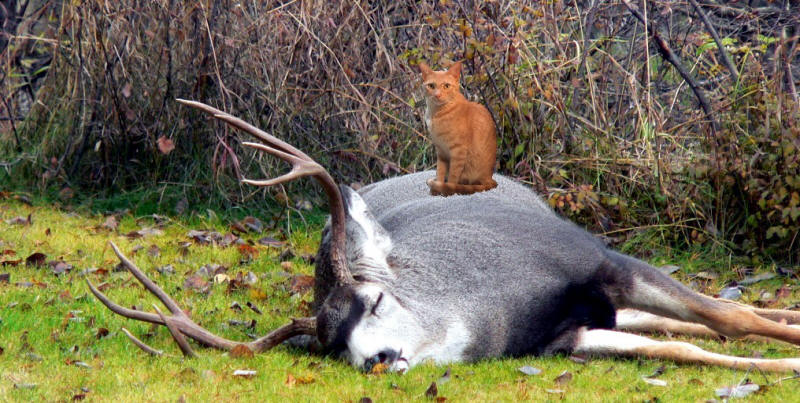 When you are having twenty-three people over for Thanksgiving, it's important to artificially raise the stress level by deciding to put hardwood floors in the family room which, if everything goes perfectly, will be done the day before people arrive. Fortunately, it did go perfectly. And the family room is now my favorite room in the house!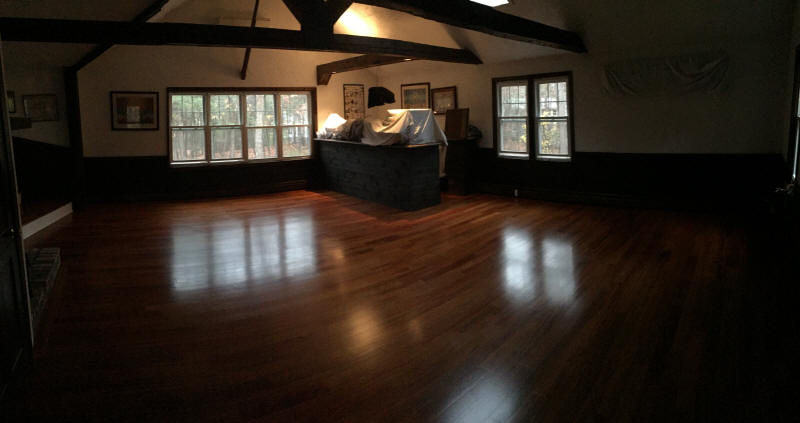 We did the second MASSIVE THANKSGIVING in November (you can see last year's photo here) with an expanded cast of characters, including a judge (the one that married us in Klingon) and a Caltech professor who runs LIGO, the Laser Interferometer Gravitational Wave Observatory that recently detected gravitational waves from two colliding black holes. We had eight people sleep over Thanksgiving evening, which stretched the house to the limits. It was noise, chaotic, crowded... and a whole lot of fun.


Front row, from the left: Tasha, Oreo, Bear
Second row: Meredith, Alicia, Noah, Maddy, Brie, Dave
Third row: Eli, Pam, Meredith's friend, Lauren, Riva, Cathy (Perlmutter)
Fourth row: Debbie, Alison, Elaine, Cathy (Haines), Alan
Fifth row: Eric, Collin, Charlotte, Will, Patric, Ryan, Evan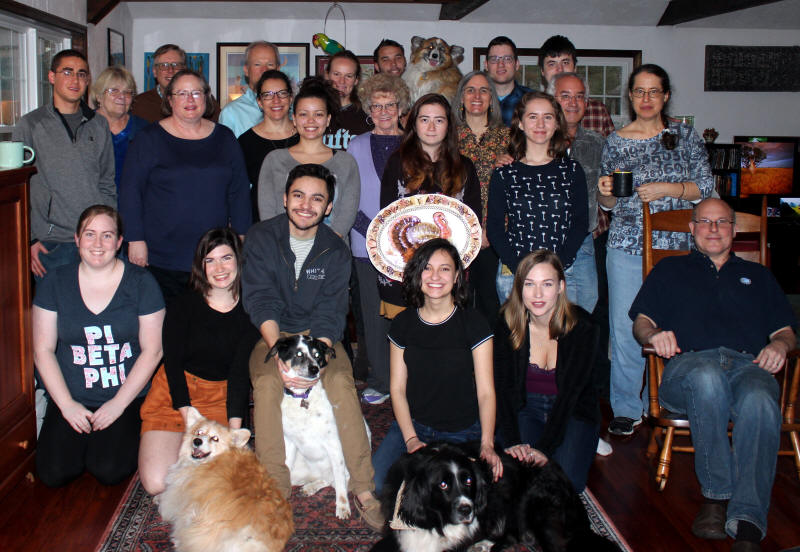 The first week in December we had Launch Number Two, Brie moving with her boyfriend Aidan into the Avalon, a luxury high rise apartment building connected to North Station (Brie and Aidan not being sports fans seems a bit of a waste!). Aidan's folks, Judy and Richard, Alison, Brie, Aidan and I helped pack and move them to the apartment and then assemble the inevitable stacks of Ikea furniture. I found it entertaining that, excluding furniture, Aidan had two suitcases, while Brie had enough boxes to fill an entire U-Haul truck from floor to ceiling. She worked very hard to get down to the absolute minimum of sixty-seven pairs of shoes.



In December, I half-checked a bucket list item... publishing a book. It's a little bit of a cheat, however, as I self-published a few hard copies, mostly because I wanted to give one to my first father-in-law Bill Garber as a Christmas present. I am planning on publishing it as an e-book at least, so it will show up on Amazon soon enough!



In December, Pam, Alison's cousin, came out to stay with us for a couple of days to attend the final presentation of 2.009, an MIT Product Engineering Processes class that Pam's daughter Meredith took. This class splits the students up into teams who all try to design and market a product (or market the product concept, trying to convince people to invest money in order to bring it to market). The presentation is done in the Kresge Auditorium on the MIT campus and is attended by the entire class, all instructors, course sponsors, and guests from product development firms, totally more than 1100 guests (plus they stream it). It's invitation only, and a major production, with a live band, stage sets for each of the eight teams, a number of professionally edited videos showing various stages of development over the course of the class (with liberal use of drones to do a lot of the camera work). Meredith told us the entire thing was hundreds of thousands of dollars to put on. The products ranged from an arcade game called Gravity, where you scrambled up a "climbing wall" that rotated under you while only touching hand and foot grips that were lit up, to a portable defibrillator, about the size of a thermos, that could be charged within two minutes from a cell phone. Meredith's team did a terrific upgrade to walkers that are used to help people who cannot walk on their own. At the end, they blew giant canisters of confetti into the crowd. It was all pretty impressive.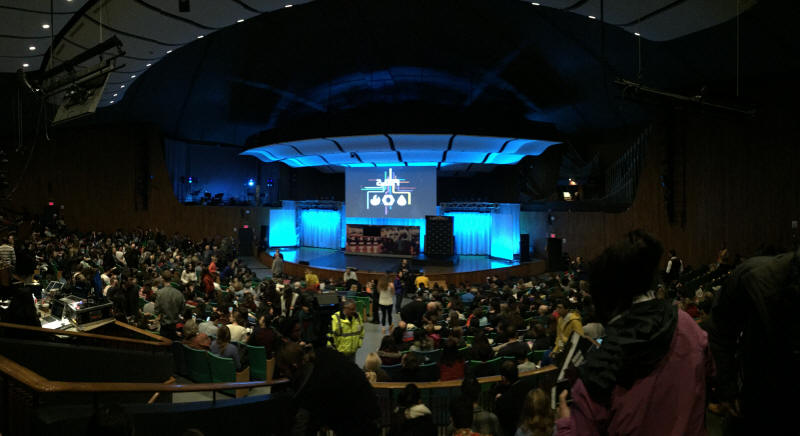 Above, Pam and Alison outside Kresege Auditorium, the stage where the presentations were held. Below, people waiting to get in, one of the teams presenting, selfie and confetti cannons at the end of the presentation!



Also in December we had a visit from Jenny, out from San Fran to visit Nina. We met for coffee and breakfast in Newton.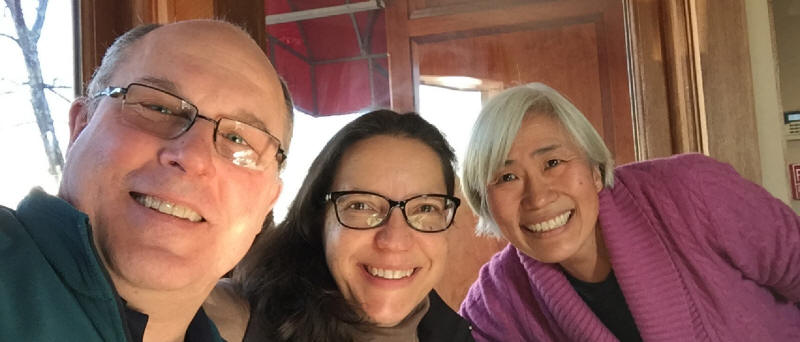 We had the first real snowfall of the season, which Alison and Bear loved, Tasha tolerated, and I and Oreo commiserated about (Oreo not pictured because she took a couple of steps outside, ran under the roof overhang to get out of the snow, and refused to move until we let her back into the house).


And finally, we went to see Rogue One, which wasn't a big deal except I was arrested by Stormtroopers.