So March was PAX East Weekend. PAX East is one of five PAX gaming conventions, each open to the public. There's also PAX West, PAX South, PAX Aus (for the folk down under), and PAX Dev, which according to the web site is a two day session prior to PAX Prime, which is never mentioned again. Oddly enough, very few people know that PAX was an acronym for "Penny Arcade Expo." Penny Arcade is not an arcade, nor does it cost a penny; it's a comic strip about computer games, and it got its name from Penny ("The Big Bang Theory") and the Marvel super villain Arcade… and, ok, now I'm just making stuff up.

Bottom line, it jams the Boston Convention Center with 70,000 screaming, caffeine-addled teenage "gamer dudes." Plus a few cool people. That would be Will, Alison, and I.

It was held March 10th through the 12th this year, much earlier than prior years, because they were aiming for the one weekend in Boston where the temperature was closing on single digits and the wind was blowing hard enough to allow people with umbrellas to do a Mary Poppins exit. That, and the red line was shut down, which Alison and I found out by parking at Alewife station and joining the other throngs of people sticking their arms through the wire barricade like a scene from "Day of the Dead." Eventually, we were all herded onto busses and taken to Harvard Square, where the Red Line had one train that ran back and forth every four hours or so.

So that did not go completely according to plan.

But we did get there, met Will for breakfast, and were leisurely sipping our lattes waiting for it to get closer to 10 when the convention opened. Then someone said "Hey, they just announced on twitter that they are opening the building now due to extreme cold and the number of attendees in the outside line that have been blown away by the wind." So we went scrambling for the convention center and spent 10 minutes freezing in the bag check line… I mean, these guys were serious badass bag checkers; they were looking for secret compartments in my backpack… so we could get inside and … stand in line. But end result is we were at the front of the line when they finally opened up, in the lead of literally tens of thousands of people, which meant Will could run to sign up for the game he wanted to compete in instead of running and trying to trip anyone else faster than him. We went at a more leisurely pace and found him there, out of breath. "The line was already two and half hours long" he said. But fortunately, since he participated in the competition last year, and because he's tall and handsome and looks like a male model they hired to pretend to be a gamer, they gave him a slot at noon. We watched from nearby, with Alison giving helpful advice from behind the barrier. Will managed to be the best player on his team, but the team lost, and he was out after the first round. Which didn't keep him from getting interviewed by the …gamescaster?



We spent a fair amount of time wandering, really getting to know what the term "overcrowded" means, and checking out the new computer games. There's a big board game section in pack, not in Gencon's class but with a fair number of vendors and tables for play. I hooked up with Jim Hlavity, his daughter, and Jim Everett-Wilson to play a demo of "Above and Below."



Then there was the cosplay, which was not as prevalent as it is at the Anime conventions or Gencon, but had a few "OMG" outfits like the ones below… I don't even know what video games they are from, but the giant armored guy had to be easily twelve feet tall and had fully articulated giant hands to crush people's skulls with.



So last year, we bought tickets to PAX east on the aftermarket, paying about twice what they cost before they sell out, and then realized we were in Cali that weekend. So this time, we bought then when it opened and made sure not to check the calendar … because we had tickets Saturday evening in Worchester to Shen Yun, a Chinese Ballet show that's advertised so heavily on television ads, billboards, bus ads, mailers, online ads, and repeated, and very expensive, front page wrap-around advertisements in major newspapers that if you haven't seen one, you must be blind and hence are not reading this anyway.

We gave away our Sunday tickets and left PAX East about 3 as a result, but the trip back took almost an hour and a half due to the red line shutdown, so we scooted in, fed the dogs, and headed for Worchester. We ate at a quiet avant-garde restaurant and headed over to the theater, arriving about 20 minutes early in case there was some kind of backup in the parking garage.

The parking garage which, as it turned out, didn't exist. But we were sure we weren't the only ones that made that mistake given the completely grid-locked traffic around the theater.

So that did not go completely according to plan.

We finally found an open parking lot a quarter mile away and walked in our "we're only going to be in the cold for a heartbeat" jackets, suffering various degrees of frostbite. But we made it.The curtain went up, and there was the show, which included a number of different dances and skits, each ten or fifteen minutes long. There were two announcers, one that gave an introduction in English and the other in Mandarin. When one of the skits had black clad government "workers" with the hammer and sickle symbol of the Chinese Communist party done in blood read beating peaceful meditators to death with clubs, Alison leaned over and said "I'm not sure this show is actually from China." And, in fact, it was from New York. Despite it's rather "moonie" feel, it appears to be based on some variation of Buddism (the Budda for this splinter group is called "Falun Dafa") that was persecuted in China around 2000. When it wasn't prostilitizing, the show was pretty good, with fun dance sketches and very colorful costumes; it was kind of a variation on act II of the Nutcracker. In case you are wondering, the evil communist thugs got theirs in the end when the Dafa showed up in the last skit and nuked the city, then radiated golden bands of love over his followers who fell to the ground in worship. I think the thugs saw the original "Indiana Jones" movie because they ran off before their faces could melt.



We went to the Boston Anime convention again this year, just for a few hours, but it was entertaining. We met up with Meredith, Alison's niece (the Charizard in the collection below), but spent most of our time enjoying the cosplay.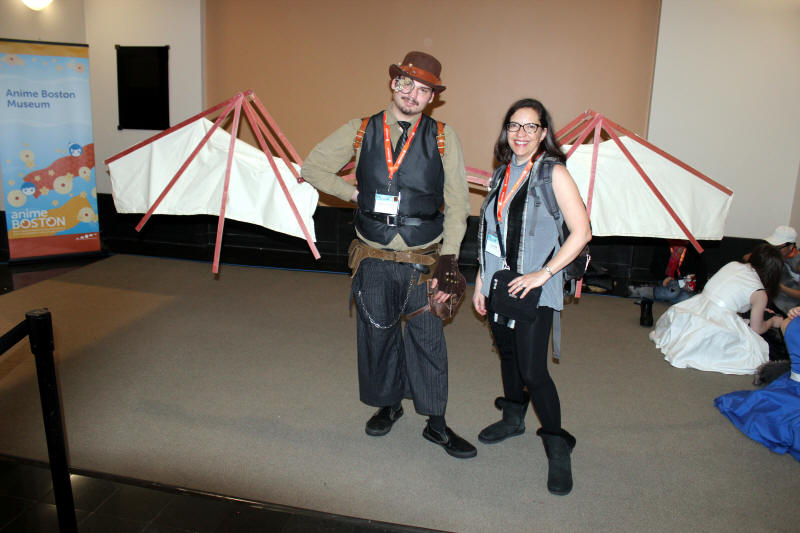 Liz Stern was up in Boston for a job interview, and we managed to connect with her for lunch...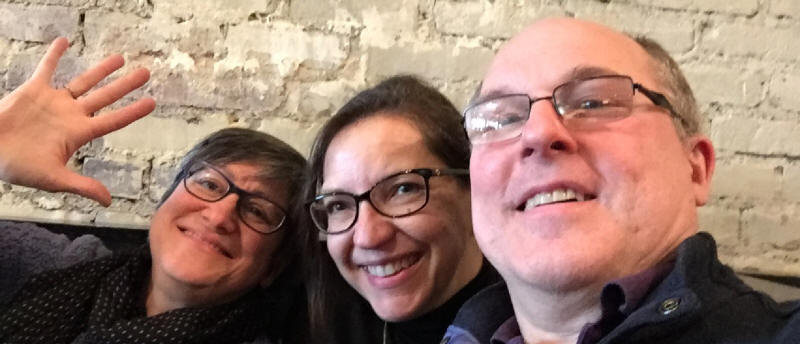 We also joined Rick, Elizabeth, Jim Hlavity, Kevin and a couple friend of Rick's to see Ron "you can't fix stupid" White at a comedy show. We rented a stretch limo, did dinner at Smith and Wollensky (a steak house), took in the show, and returned home in style.



We also went to Cali from the 19th through the 26th (Alison had just returned from visiting Heidi and Maddy in Walla Walla, so she barely had time to adjust to east coast time before heading back). One of the highlights of this visit was the Mission San Juan Capistrano, which has artifacts from the time the Spanish arrived to when it became a state, a fascinating look back at the state's roots.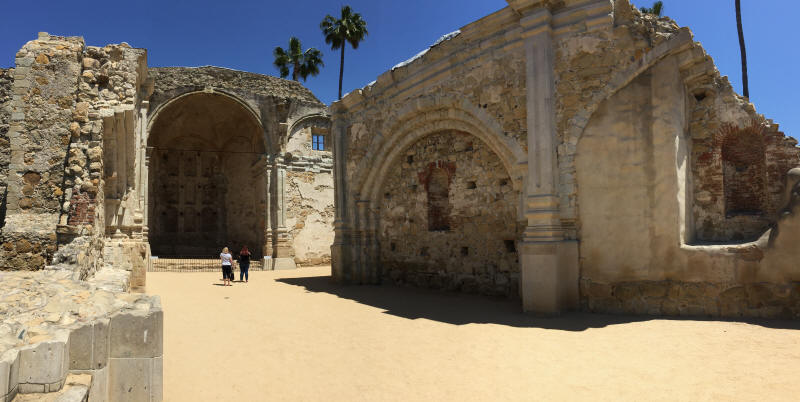 But the trip was for a number of purposes. We visited with Heidi, Alison's folks, and the extend Garber family, went to Disneyland (of course), attended the 70th birthday party of Alison's old law partner Tim, saw Jeff Goldsmith and the old Cali gaming crowd including Richard, DJ, Sue, and others, and attended The Lincoln Center annual charity ball (Alison is on the board of directors).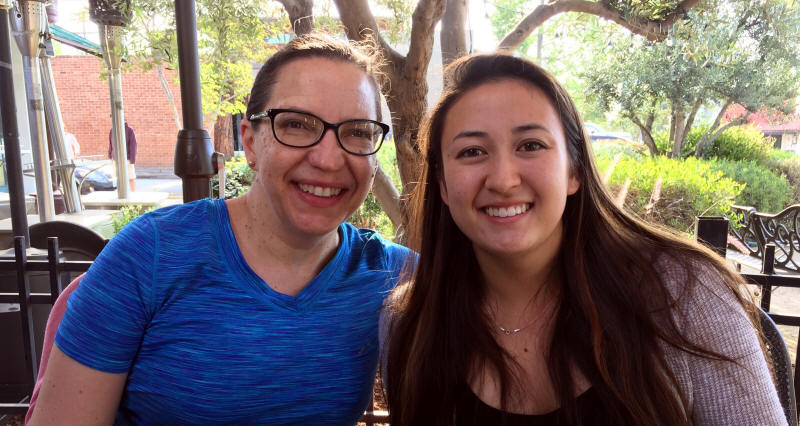 Other things in March and April; another visit to one of the Harvard Art Museums, Easter dinner with Brie, Aidan, Judy, and Richard, Welcoming Elizabeth to Massachusetts (she moved out here to live with Rick Morris, who we introduced to her at our wedding) (Elizabeth's daughter Taylor visited for a few days as well; shots below are of Ben, Anya, Talyor, Will and the four of us), a weekend at home with Brie and Will, our (aborted) attempt to sleep in a tent in the back yard, and a shot of young woman with Patric (who was visiting with Will). The deck picture includes our new fire pit, which won "most inept design" award; after one fire, the paint is peeling, the frame is warped, the wheels keep falling off, and the grill that holds the firewood off the metal frame melted.