(Yes, there is a planned 2018 Tour 2 coming up in October, to Mongolia, ostensibly to see the Eagle Festival, but really, we decided we just haven't spent enough time in airplanes recently)
For those that like a snappy Executive Summary, here are the takeaways from Tour 1:
Centralized urban planning done right can actually work pretty well
Resorts are the ultimate form of Trumponomics
When James Bond orders steak tartare, it's "cut, not minced"
There are many things we don't know about a giant lizard called the Asian Water Monitor
Elephants were the original All Terrain Vehicles
Do not suggest vacationing on islands with active volcanoes to Alison
You're never too old to enjoy skinny dipping
If you want details, you'll just have to read along.


The Trip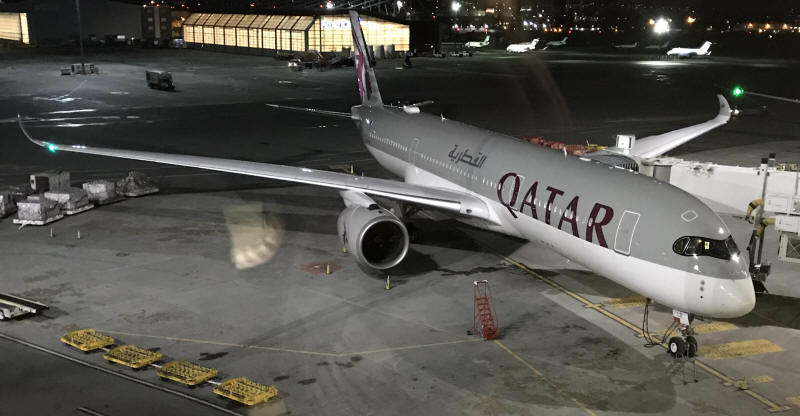 Our plane to Singapore via Doha, Qatar

Our adventure started about three weeks before we left, at a point in time when we were thinking that the most exciting thing we would be doing in upcoming days was to see how much ice we could remove from the driveway through daily prayer for spontaneous evaporation. Instead, work requirements led to Dave having to visit Acadian's Singapore office in very short order; Alison decided to come along; it seemed wrong to go half way around the world without seeing a bit more of it; so we tacked on a week of vacation and decided to visit (on the recommendation of someone in the Singapore office) Bali, a tropical island paradise in Indonesia. Dave decided on Bali, that is, which lead to the following conversation:

Dave: Bali, one of the natural wonders of the modern world, a tropical pearl of awesomeness in awesome Indonesia. It's going to be fantastic!
Alison: Didn't a volcano just blow up there, like today?
Dave: Huh? I don't think so. There would have been something on the news. Let me Google it…

Needless to say, it was in fact true, although we're not talking Pompeii-style death and destruction, just a little magma, smoke, 53,000 displaced citizens and a shutdown airport. Plus continuing volcanic burps, with continuing intermittent airport shutdowns. "We" decided that, perhaps, Thailand would be a better choice. As we wanted tropical beach, and the playground of Thailand is Phuket, it was the obvious choice: a jewel of an island at the southern tip of the country. Thus, a week later we had business class round trip tickets to Singapore, and separate round trip tickets from Singapore to Phuket and back.

Our "sleeper pods" in business class; they folded out into little coffin shaped beds and had exclusive wine lists with wine that "smells of new lead pencil shavings"

Rampaging dinos at Hamad International Airport, Doha




The business class lounge at Doha, replete with spontaneous yet restful water blips


Singapore had a rather whimsical airport with lots of photo opportunities

It was a week away from Chinese New Year, and the new year is the year of the dog, so...
Singapore


So, Singapore is more of a city-state than a country, with a land area about one-fifth the size of Rhode Island (i.e., small enough that if you were throwing darts at a world map your chance of hitting it would be about the same as winning the Powerball lottery). Singapore is a Republic; its one-party "People's Action Party" frankly sounded a little suspicious to our Western ears (just like, we assume, "President Donald Trump" sounds a little suspicious to, well, everyone). But Singapore is a marvel of urban and economic planning. It's a very green city, focused on renewable resources and sustainable practices. So for instance it levies essentially luxury/consumption taxes on cars that drives the cost of buying, say, a Lexus to somewhere around $200,000 so that even well-to-do families have only one vehicle. That's possible also, in part, because the public transit system is an excellent combination of rail, subway and (very clean and efficient) buses. CLEAN AND EFFICIENT BUSES, PEOPLE. Likewise, there is subsidized government-built housing that 70% of the citizens live in, but they can also buy their allocated unit over time. There's a lot of focus on keeping things clean; sales of chewing gum are outlawed (really – and you can't take durian on the subway lest you risk a $500 fine). The end result of all of this is that Singapore is in fifth place on the UN Human Development Index and has the third highest GDP per capita. It is ranked highly in education, healthcare, life expectancy, quality of life, personal safety and housing, all of which were reflected in the city we saw
We arrived at 9:15 Tuesday morning (this is called "bad planning") after leaving Boston 22 hours earlier. Dave went into work, Alison took advantage of what turned out to be an upgraded room at our hotel, the Sofitel Singapore City Centre. It was impressive pretty much across the board. Tasteful, well designed rooms, elegant and spacious lobby and facilities, efficient amenities from the elevators to the door locks. We were spontaneously upgraded to a gorgeous one-bedroom suite with access to the pool and a host of special suite-level amenities (including a daily breakfast spread and nightly happy hour with wine tasting). And in a nice touch, when we showed up our room's TV's were tuned to a personalized "welcome to the Sofitel, Mr. David Dickie" message!
Dave worked the next three days while Alison explored the city. On Tuesday, she hoofed (by choice) over 13 miles from the business district, through Chinatown, and into the old colonial area where she visited the Singapore National Museum. The museum focused on Singapore's history from before it became a British colony to the present day, with a special exhibition on World War II and the day the British admitted defeat and handed Singapore over to the Japanese army (which began a 2 ½ year occupation plus a brutal campaign against ethnic Chinese). There were also exhibits on Singapore's successful economic development post-WWII. All in all, a fascinating visit! Over the following two days she focused on Singapore's renowned shopping malls, going from the Mustafa Shopping Centre one morning (truly a place where you can buy anything from car batteries to fava beans, all packed into a 3-block, 4 story, barely squeeze down the aisles fire hazard) to the Vegas-humongous, multi-story shopping malls along Orchard Road (which were just … gigantic and gigantic) one afternoon. Between the two experiences, she liked Mustafa way better for its funky, cluttered, "real people shop here" vibe. Then on Thursday she went to Singapore's National Gallery, a fairly new national art museum located in two old, refurbished colonial era administration buildings (one of which served as Singapore's Supreme Court) that are linked together by a soaring roof made to look like leaves, with the supports carved as a tree. The art museum was excellent, showcasing Southeast Asian art but also a touring exhibition from the Musee d'Orsey of Impressionist paintings. Alison also became part of a performance art piece, as a woman clothed entirely in black sang opera to her as Alison sat, alone, in a straight-backed chair in one of the art galleries!


The view from the Singapore Office
| | |
| --- | --- |
| Alison gets the "gift of music" after this guy! | The ancient tossing of the salad for Chinese New Year |
| | |
| --- | --- |
| Dinner at the "Chef's Table in Singapore | And one more shot of the view from the office |
We had a dinner with the Singapore office crew at an authentic Singapore restaurant (which meant, in that case, luscious Godzilla-sized crab) and walked around the exterior of the Gardens By The Bay, a nature park along the recreational marina reservoir (more on that later). The interior gardens were closed in the evening, but just the park around it was awesome. They sport forty foot tall "SuperTrees," manmade structures that look something like a tree from the "Avatar" movie but colonnaded with strings of colored lights. The SuperTrees are also designed to be home to enclaves of unique and exotic ferns, vines, orchids, and a vast collection of bromeliads such as Tillandsia, amongst other plants. It was magical to see them lit up at night. We also walked through another one of Singapore's SuperMalls, this one located in the base of the iconic Marina Bay Sands hotel near the SuperTrees. The Marina Bay Sands mall alone was a structure roughly the size of Rhode Island (yes, I know, that makes it larger than Singapore, but they did some sort of clever interdimensional folding thing to get it to fit).
Saturday, Thiam (nicknamed "TB"), Dave's contact in the Singapore office, graciously took the day to show us around the city, including trips to Chinatown (which was hopping as we approached the Chinese New Year), Sentosa Island (which is the Singaporian version of Disneyland), the Marina Reservoir, and a drive through some of Singapore's neighborhoods and public housing. The Marina Reservoir was pretty amazing because when we had dinner there, and later saw the SuperTrees in the nearby park, we assumed it was just a part of the oceanfront that had been turned into a tourist spot, but in fact it's a pretty remarkable piece of engineering: the entire marina is closed off from the sea and has been converted to fresh water (hence the "reservoir" part of the name).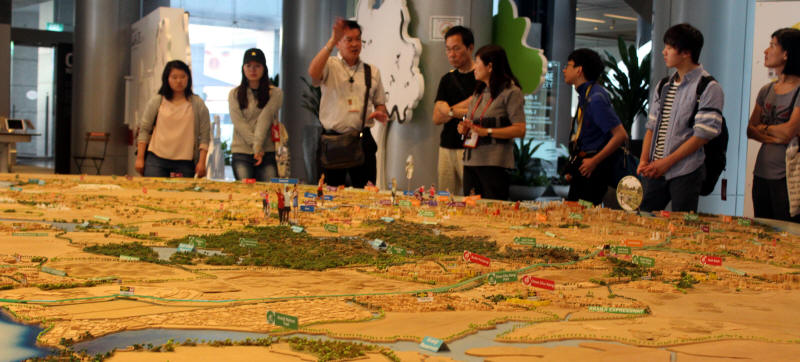 A kind of cool three dimensional map of Singapore where you could see the individual buildings at scale
| | |
| --- | --- |
| Chinatown | Year of the dog, right? |
| Buddhist temple | Dog costume contest! |
| Sentosa Island, SIngapore's Disneyland / Universal | The Aquarium at Sentosa |
| Alison and TB | In the aquarium tunnel |
| A public housing project, Singapore Style | The impressive Marina Reservoir, with fresh water on one side and salt on the other |


The view in one direction on the Marina seawall... and below, the view in the other direction

Sunday, we flew out for Phuket.


Phuket
The flight over the ocean to Phuket gave us tantalizing views of Thailand (and of the area in general). While we were landing, we even saw the Big Buddha, which we would visit during our stay. But nothing prepared us for the welcome we received at our resort.
| | |
| --- | --- |
| Islands off of Phuket, two of hundreds | Can you see the Big Buddha? |
The Anantara Mai Khao Phuket is a resort on Mai Khao beach, located on the secluded northwestern side of Phuket. It's truly the nicest place we've ever stayed, where just hanging out in our room was the preferred alternative to going out and doing something. Although, to be fair, it wasn't a room: it was a small villa with a private tiled pool, outdoor tub, and private patio and sitting area. It had a zen-like feng shui feel to it; the furniture was simple, clean lines, the floor was polished hardwood, the bathroom was done in white marble. The pool was beautiful, tiled with gleaming blue and gold tiles, and the decorations were likewise casual but tasteful. We somehow again got lucky and were upgraded to a "lagoon" villa, which meant we had a private gazebo over the lagoon with an extended walkway to reach it. The lagoon itself was full of fish, turtles, lily pads, Asian Water Monitors (Wikipedia says, no joke, "the possibility of venom in the genus is widely debated," but we fed them anyway) and a variety of ducks and birds. Our entire private patio and pool could be shuttered so that you could swim "au naturel" then double down and lay on the poolside chaise even more "au naturel," which just turned out to be more fun than you could shake a stick at!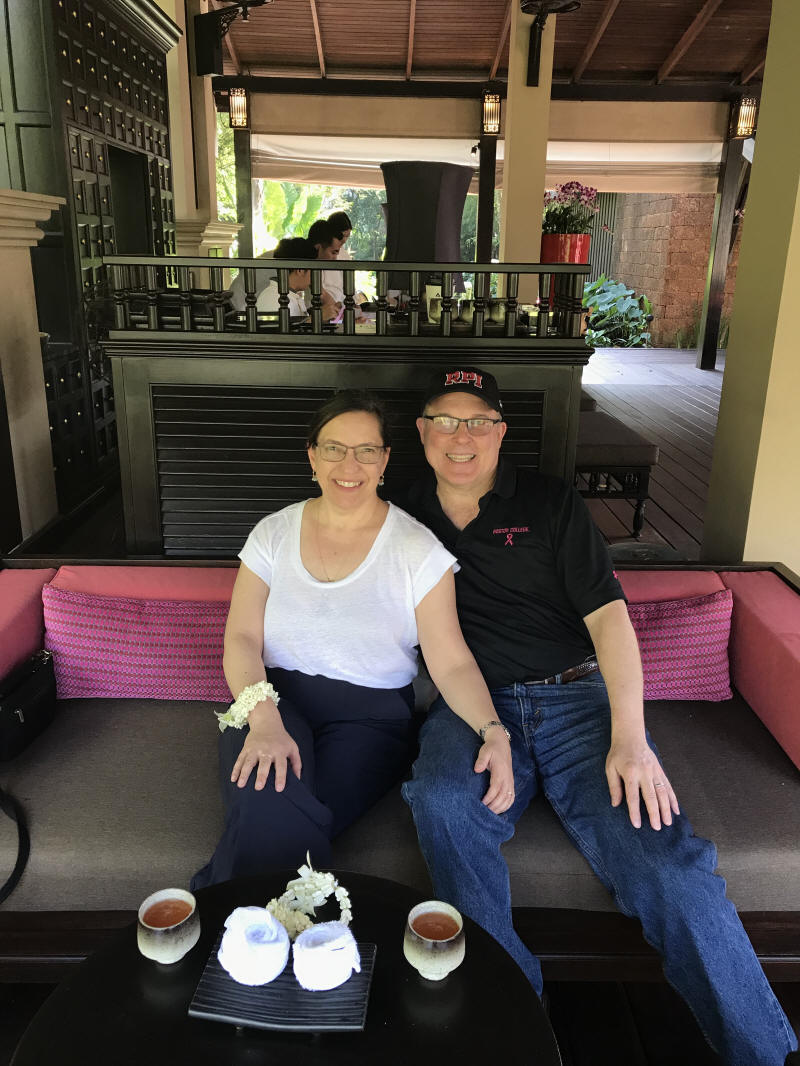 Our welcome to the Anantara, with jasmine bracelets, tea, cold compresses and a gong they rang three times whenever a new guest arrived.
| | |
| --- | --- |
| | |
| | |
| | |
| Above, our private lagoon sitting platform, where we could sit and read and watch the myriad animal denizens, turtles, fish, birds, lizards, ducks go by. | |
| The possibly poisoness water monitor, who was five feet long and camera shy despite it's local name, "Dĕk thī̀ kin xāh̄ār pĕn phis̄ʹ", which means venomous child eater | One of the weird ducks that shared the lagoon with the pretty white normal ducks that were clearly imported from someplace else |
The resort itself had beautifully manicured grounds, a mostly empty white sandy beach, turquoise waters, and three restaurants with fabulous food (one Thai, one Arabic, and one European/seafood). They put on nightly shows that were (we speculate) intended to depict ancient Thai dances as they would have been performed had high-intensity flamethrowers been on hand. We also happened to make friends with the resort's Executive Chef (friendly chit chat and honest appreciation of the food goes a long way!), who arranged a special meal of Indian food for us on our last night there (and told us that the secret to really excellent beef tartare was to hand-cut the meat and mix in the rest of the ingredients, as opposed to mincing it all together with a mechanical grinder).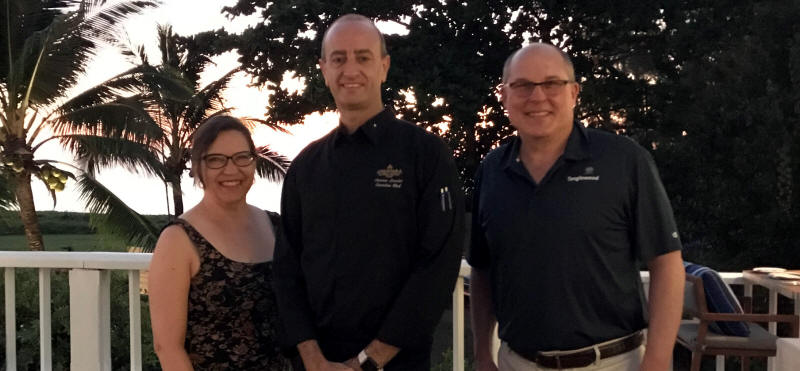 Above, the Executive Chef for the resort, who provided for the best Indian dinner we've ever had.

Below, some of the shows, one on the beach, one in the lagoon near the entrance to the resort (there was a platform just under the water the performers did the dance on, although maybe it was just weird waterwalking powers to go with their creepy in a wonderfully eerie way white masks).
| | |
| --- | --- |
| The beach show | DO NOT TRY THIS AT HOME |
| | |
| | |
We spent Sunday and Monday at the resort more or less hanging out in great luxury (read above for the attractions of the our private villa room!). Tuesday we had signed up for a trip to Phi Phi Island (actually, a four island tour), one of the iconic locations that has shown up in movies from the James Bond flick "Man with the Golden Gun" to "The Beach." It's a bit of a slog, since it's off the east coast of the Phuket, so we were picked up at 5:45 a.m. for a 45 minute drive to the marina. After that, it was an hour to get all the boats loaded, then an hour to get out there. We were about three quarters of the way out when one of the passengers who sat in the front of the boat (despite clear warnings that IT WOULD BE VERY BUMPY AND YOU CAN HURT YOUR BACK), and who OF COURSE had a bad back, managed to seriously injure herself. So we turned around and headed back in, and the trip was cancelled. By the time we got back to the Anantara, it was late enough in the afternoon that we didn't have enough time to line anything else up, so we sucked up strolling along the golden beach, swimming in the warm and clear azure waters, and splashing in our private pool. It was awful. Just awful.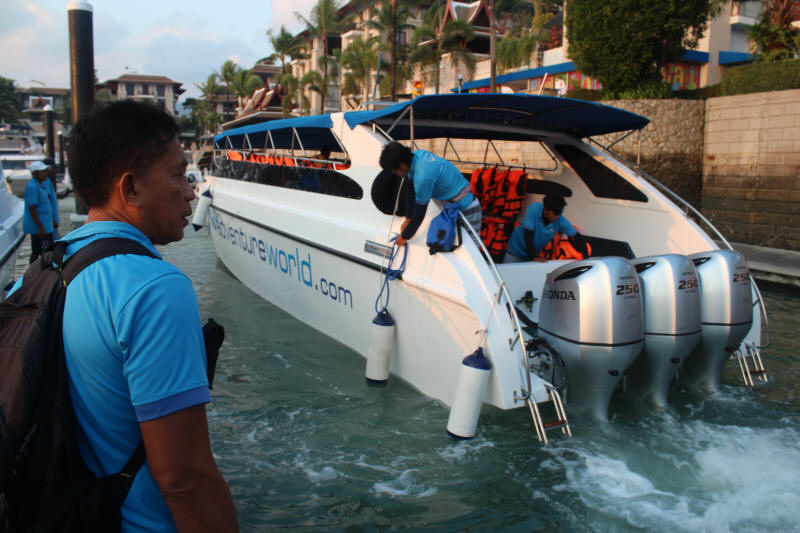 The hopeful beginning of the non-trip to Phi Phi
Wednesday we did a touristy combo of white water rafting and an elephant ride that was really fun! Part of the fun truly was driving around Phuket and seeing the never-ending tree farms. Rubber and palm oil trees, specifically. The white water rafting was a good splashy wet time; when we originally looked at the river, we were thinking there was no way a raft could navigate through the low water and narrow gaps between the rocks, but it turns out there are two dams fed by a natural waterfall that the rafting companies open up to flood the river for rafting, turning it into a sheet of churning water. But the elephant ride was really the star of the show. It's pretty amazing to be close to animals that large, and riding one in the (not-US-safety-approved) howdah (a small platform on the back of the elephant with, seriously, a piece of rope as a safety belt) felt like something from Rudyard Kipling's novels. Then when you ride one bareback (yes, bareback!) you feel like you're actually Mowgli. It was great fun – Alison decided it was a bucket list item she didn't even know she had but can now check off: Ride and Elephant Bareback in Thailand. Done! Retroactive bucket list items are awesome…..
Thursday was diving for Dave and a spa day for Alison. An Indonesian dive was a (not retroactive) bucket list item for Dave, so check! But we had a little bad luck there as well, since the original trip to the Similan Islands (consistently rated as one of the top ten dive sites in the world) that Dave had signed up for was canceled. Dave ended up diving Racha Yai and Racha Noi islands instead (island is probably too strong a word, as they are small rock outcroppings not much larger than a parking lot). Visibility wasn't great, but there were still a huge variety of coral, fish, and anemones to see. Best of all, a jaunty octopus came along and stuck in the area for a while. The octopus was interesting to watch, as it was constantly moving and constantly changing color to match the surrounding coral literally within seconds.

Friday, we hired a driver with a Toyota Forerunner and visited different spots in Phuket, including the one of the maybe two museums on the island. At one time, Phuket had the largest tin mine in the world. After it shut down, they turned the top of the mine into a Mining Museum, which actually was a somewhat random mix of history, culture, and information about tin mining. We also went to Old Phuket Town (with its interesting Sino-Portuguese architecture and wildly out of control electrical cabling), Wat Chalong (a Buddhist temple), and the Big Buddha (which you must capitalize, and is indeed a very, very Big Buddha). As we were chauferred around, we also were able to see the many roadside stands and shops, plus small shanty-ish towns outside the resort areas, which seemed very much like those in the Caribbean islands we've seen (our working hypothesis is that the companies that own the resorts and operate the large tour companies are the big winners, while the staff makes very low wages, so there is a third world/first world dynamic to the island). Overall, Wat Chalong was the most interesting of the places we visited that day, mostly because it was so orthogonal to western religion, seeming to revel in its brilliant primary colors, the huge outdoor market surrounding it with row upon row of vendor booths, and general lack of what you would consider THE central place for worship (at least that we could discern). There were no altars, no clergy, just endless arrays of statues of the Buddha (that seemed to molded plastic made to look like gold) and a few open spots to kneel in respect.
The trip back


The trip back part was less exciting for obvious reasons. Phuket to Singapore, a seven hour layover, Singapore to Qatar, a nine hour layover, and Qatar to Boston, a total of just over 30 hours of travel. But business class includes seats that convert into those little coffin-beds, free drinks, free food on demand, and luxurious cotton jammies to change into (plus a great selection of movies and entertainment), so we can't really say we were roughing it!